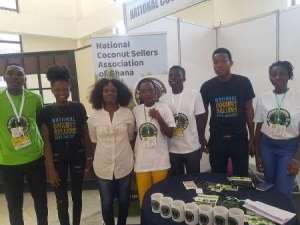 The Executive Director of the African Coconut Group (ACG), Kwaku Boateng, has encouraged young entrepreneurs to explore opportunities in the coconut industry, citing the existence of supportive structures for new businesses.
He conveyed the message during a coconut sector stakeholder engagement meeting with officials from the Western Regional Coordinating Council ahead of the 3rd International Coconut Festival, scheduled to take place in Takoradi from the 26th to the 28th of September 2023.
Mr. Boateng lauded the government's commitment to fostering the growth of Ghanaian businesses in the coconut value chain, pointing to initiatives like the Coconut Revitalization Programme and Planting for Export and Rural Development (PERD).
He stressed that harnessing the potential of the coconut sector could significantly address Ghana's unemployment issue, given the substantial demand for coconut products both locally and internationally.
"The Coconut Festival aims to promote investment in the sector, making it more appealing for Ghanaians to engage in various businesses within the coconut industry, ranging from production to manufacturing and export," he remarked.
He further highlighted the employment potential, suggesting that the coconut industry currently employs 1.8 million Ghanaians due to government interventions complemented by a well-structured Coconut Federation, comprising nursery operators, producers (farmers), vendors, processors, and exporters.
The 3rd edition of the International Coconut Festival, themed "Invest in Ghana's Coconut Sector for an Inclusive Climate and Social Resilience," is a collaborative effort between the African Coconut Group, the Western Regional Coordinating Council, the Ghana Export Promotion Authority (GEPA), SOLIDARIDAD, and the Tree Crop Development Authority (TCDA).
Activities for this year's festival include seminars, mentorship programmes for youth entrepreneurs, farm visits, and sessions dedicated to women in the coconut industry.
In 2019, GEPA partnered with ACG to hold the first-ever International Coconut Festival in Ghana, which brought together exhibitors as well as major players to promote the coconut business.
The government of Ghana added coconut to the Tree Crop Development Authority (TCDA), established in 2019 and mandated to develop and regulate the production, processing, marketing, and export of coconut and other selected tree crops.
The non-traditional export figures for 2022 indicated the coconut sector's substantial economic contribution. Notably, earnings from both fresh and processed coconuts reached 6.3 million dollars and 6 million dollars, respectively.
Ghana's export of desiccated coconut also emerged as a standout performer. Exports in this category rose to 21.9 million dollars in 2021, a significant increment from 6.3 million dollars in 2020 and 3.8 million dollars in 2019, securing the nation a commendable 9th position in global desiccated coconut exports.