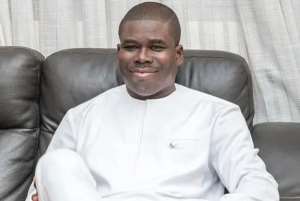 Former Head of Monitoring Unit at the Forestry Commission, Charles Owusu, has levelled allegations against the largest opposition party, the National Democratic Congress (NDC) regarding the recent protest.
He claims the opposition party was the mastermind of the recent #OccupyJulorBiHouse protest that sought to picket at the seat of government, Jubilee House.
The demonstration, organised under the hashtag #OccupyJulorBiHouse was blocked by the Ghanaian Police, citing violations of the Public Order Act.
The Police on the first day of the three-day protest arrested 49 individuals who had converged at the 37 Lorry Station to picket at Jubilee House.
The Ghana Police Service, in a statement released shortly after the arrests, clarified their stance, saying, "We would like to state that the Police do not take delight in preventing any group from demonstrating as the Service has a track record of providing security for demonstrations in the past.
"The exception, in this case, is the Police disagreement with the organisers on the venue, the Jubilee House, being a security zone."
The police urged the general public to refrain from participating in the "unlawful" protest until the matter is resolved in court, scheduled for September 26, 2023.
Charles Owusu, speaking on Peace FM's "Kokrokoo" morning show, did not mince words.
He accuses NDC of orchestrating the protest.
According to him, the #OccupyJulorBiHouse demonstration was, in fact, organised by the National Democratic Congress secretly.
"They are cowards. You see, they should be bold enough to come out and demonstrate. It is within your own right to say that, as a political party, you want to demonstrate but when you sometimes hide behind people to make things messy; I find it difficult to understand," he remarked.
Mr Owusu further commended the Ghana Police for their actions in disallowing the demonstration and further arresting those who engaged in misconduct during the protest.
He emphasised that the Police had acted in the best interests of public safety and the security of Jubilee House.