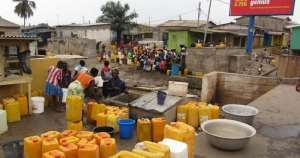 The Ghana Water Company Limited (GWCL) has urged customers in the eastern part of Accra to store water ahead of the company's scheduled rehabilitation of the main transmission pipeline from the Kpong Water Treatment Plant.
A statement issued by the company said there would be interruption of water supply from the plant to the eastern part of Accra from Sunday, September 24 to Thursday September 28, 2023.
Water supply will be shut off to allow GWCL engineers to replace the main 42-inch transmission pipeline, which bursts frequently due to high volumes and pressure in the pipeline, causing the company to lose a significant amount of water and revenue.
The statement said the rehabilitation works involved in changing the pipeline was capital intensive, therefore, "Management has resolved to change the weak portions of the line to reduce cost and to maintain the integrity of the transmission pipeline.
"This repair work will also reduce the inconvenience of frequent interruption of supply to customers and to ensure a long-term reliability of water supply, " it said.
Areas to be affected include Gbetsile, Afienya, Zenu, Prampram, Mataheko, Katamanso, Dawhenya, Sakumono, Batsonaa, Klagon, Tema Township, Adjei Kojo, Borteyman, Santeo and surrounding areas.
The GWCL therefore asked customers in the affected areas to store enough water during the periods
It also assured customers that water supply would resume as soon as the works are completed.
"The public and essential service providers are entreated to contact the following numbers for enquiries and alternative supply: 0800 40000 (Toll Free on Vodafone Lines) 0302 2218240, 0207385089, 0207385090 and via WhatsApp lines: 0555123393 & 0555155524," the statement added.
—GNA