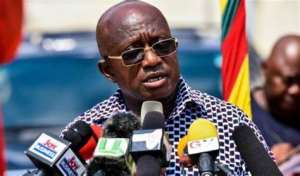 Ashanti Regional Security Council has raised concerns about a series of alleged murder cases involving women that have been perpetrated in separate incidents recently.
The council said that the region is relatively calm in terms of crime, but these recent incidents could pose a threat to security if not swiftly addressed.
Two separate alleged murder cases involving women have been reported in the Ashanti Region in the past two weeks.
An 18-year-old apprentice was tragically raped and murdered in Anwiankwanta, while a 35-year-old businesswoman was allegedly killed by her house help.
The Asokore Mampong Court has remanded two individuals in connection with the businesswoman's death, and two others have been arrested in connection with the tragic demise of the 18-year-old apprentice.
Speaking at a ceremony in Kumasi to commemorate World Peace Day, Ashanti Regional Minister Simon Osei Mensah, who also chairs the Regional Security Council, said that the incidents are being investigated.
"Recently there has been an ugly security threat that is raising its head, mainly people killing women which we need to nib in the bud as soon as possible. Some of them are just relationship crises… But there are some of them that we are trying to find the reasons behind those things. For instance, the one that recently happened at Anwiankwanta, ou cannot just say that they are relationship problems, there could be more to it. So we have to investigate all of these and come to a conclusion," he said.
Mr Mensah used the opportunity to urge residents of the region to provide information to security agencies to aid in combating crime.
-citinewsroom