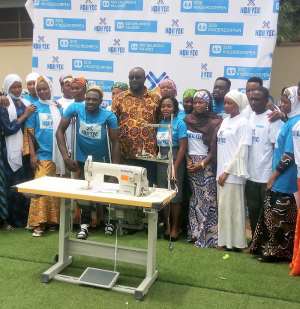 Officials of NBU-YEC have given start-up tools to 24 out of 102 youth who were trained in entrepreneurship under the project.
The tools include 20 industrial sewing machines, 1 oven, 1 knitting machine, 1 shoe stamp machine and a pass set worth GHs 70,000.
Presentation of the items was done at the first graduation of the NBU Youth Empowerment Center, held at the Asokore Mampong Municipality on Thursday, 14th September, 2023.
Training
Beneficiaries were those who were trained on how to generate and shape their business ideas as well as how to pitch their business to attract the necessary support they need.
"50 of the total number are currently undergoing hard skills training with 21 carefully selected service providers within Ashanti region in the areas of fashion and design (22), hairdressing and make-up (7) and 20 in baking of cakes and pastries", Roberta Aryeetey, NBU-YEC Project Coordinator indicated in her address at the graduation ceremony.
"27 out of the 102 have also started their business," she stated.
In all, 122 trainees (102 yoGraduationuth who opted for the Entreprenurship track Inclusive) graduated and each was awarded a certificate for completing six months training in soft skills at the NBU hub.
During the soft skills training, the youth worked on developing essential skills such as communication and collaboration, critical thinking and problem solving among others.
"They were taken through Core Life Skills session that exposed them to their strengths and weaknesses as individuals, what goals to set for themselves and how to work towards those goals. Upon completing the Core Life Skills training, 130 youth opted for entrepreneurship training while 20 chose to pursue employability.
"Youth who chose the Employability track received training and coaching in CV writing, job search and job interview preparation, rights and responsibilities of an employer/employee etc," Roberta Aryeetey NBU-YEC coordinator said in her address.
She however indicated that 28 out of the total number of trainees (which originally was 150) who opted for employability training dropped out.
Speaking at the occasion on behalf of Alex Mar Kekula, National Director, SOS Children's Villages in Ghana, Mr. Benard Amoako-SOS Programme Director-Kumasi said it is the vision of SOS to make NBU-YEC one of the innovative hubs in Ghana.
"We remain committed to being the leading organisation in providing quality child care support, youth development projects and partnering with other agents of development in providing sustainable livelihoods, particularly for the margenalized in society," he stated.
Present at the event were religious leaders, representatives of Civil Society Organisations, assembly members, service providers, etc.