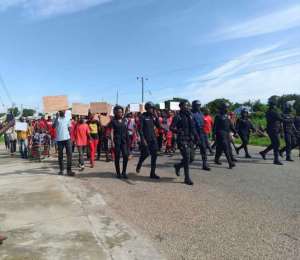 Some aggrieved residents of the Nadowli-Kaleo District have held a demonstration to express their dissatisfaction about the current management and operation of the Nadowli-Kaleo District Hospital, which they claim has affected the quality service delivery at the facility.
They said the facility in the home district of the current Speaker of Parliament, Alban S.K. Bagbin, which was once referred to as "Upper West Korle-Bu," had been downgraded to a Community-based Health Planning and Services (CHPS) in its service delivery.
Hundreds of residents of the district wearing red bandanas processed through the principal streets of Nadowli wielding placards with the inscriptions: "Stop the sale of blood donated to the Hospital," "Poor OPD services," "Please stop the Chop, Chop," and "Administrator must Go," among others.
The group later presented a petition to the Nadowli-Kaleo District Health Director, Madam Phoebe Balagumyetime, pointing out their concerns and the actions that needed to be taken to restore the lost glory of the hospital.
The concerns raised in the petition included the lack of basic medical consumables such as gloves and plaster, use of public funds to fuel spoiled vehicles, awarding contracts to staff of the facility, failure to pay casual workers for several months and divided leadership of the facility.
"We wish to advise duty bearers that we the petitioners are ever ready to use any other means to ensure that our legitimate demands are met and after two weeks if there is no positive response from authorities concerned, we will first lock the Administrator's office and continue from there," the petition said.
Mr Prince Sabogu, the Nadowli-Kaleo Youth Secretary, read the petition, signed by 15 people including the leadership of the youth, assembly members, opinion leaders, and youth of the district.
The petition said the facility was near collapse due to its gross mismanagement and called for a total overhaul of the management of the hospital to save it from imminent "death and burial."
"…Just last month a client was asked to go and buy blood and the caretaker went to Jirapa and brought the blood instead of them (the hospital authorities) negotiating with their counterparts in sister facility to get the blood," the petition added.
It said due to poor management, the facility had so far, recorded two maternal deaths, the latest of being the death of a young woman and the unborn child during childbirth.
"The backup generator at the hospital is a white elephant and anytime there is light out, doctors and nurses are compelled to use torchlights and mobile phones, which negatively affect health care delivery," it stated.
The demonstrators, therefore, called on the Director General of Ghana Health Service, Parliamentary Select Committee on Health, Upper West Regional Minister, Regional Director of Health Service, the District Director of Health Services, and other key stakeholders "to immediately shake up the seven core management staff at the Nadowli district hospital to prevent the total burial of the district hospitals."
GNA