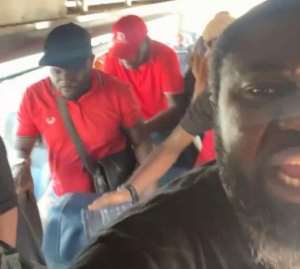 Despite police warnings, hundreds of protesters gathered at the 37 Trotro Station in Accra to take part in the Occupy Jubilee House protest.
On Thursday, September 21, 2023, the demonstrators, under the hashtag #OccupyJulorbiHouse, came together to protest the misrule in the country organised by a group called Democratic Hub.
Despite the injunction on the protest, the protesters still went ahead to march towards Jubilee House, the seat of government.
The Police quickly stormed the venue, rounded up the protesters and detained 49 of them at various police stations, including some of the protest organizers.
Among those arrested was Oliver Barker Vormawor, an organiser of the group who doubles as convenor of the #FixtheCountry movement.
Organizers of the protest claim they were not served with any court notice regarding their march to Jubilee House.
The OccupyJubilee House protest is the latest in a series of demonstrations against the ruling government.
In recent months, there has been a growing public discontent with the escalating cost of living, corruption, unemployment and economic hardships.
The government, on its part, has defended its record, asserting that it is committed to improving the lives of Ghanaians.
In the midst of these developments, Lawyer Prince Ganaku, representing the detained protesters, has vowed to secure the release of his clients.
He issued a passionate call to all lawyers and the legal body, including the Ghana Bar Association (GBA) to stand up and defend the rule of law.
Ganaku emphasized the unconstitutional and unlawful nature of the arrests, stating, "We are in a democratic dispensation; we shouldn't be seeing things like this. I want to send a clarion call to all lawyers to show up here to defend the rule of law.
"This is unconstitutional; the arrest is unlawful. We are going to work around the clock to get them out. These people are fighting for you [police]. You are shooting yourselves in the foot," he stated.