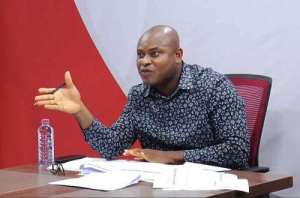 The National Communications Director of the ruling New Patriotic Party (NPP), Richard Ahiagbah has called on Ghana Police Service to free the arrested 'OccupyJulorbiHouse' protestors.
He noted that arresting citizens who are exercising their rights to peaceful demonstration is an affront to democracy.
While he disagrees with the derogatory description of government by the protestors, the ruling party's spokesperson in a tweet on Thursday, September 21, criticized the police's action.
"The ability of the people to demonstrate is an inherent democratic right. Therefore, the decision to stand in the way of citizens' exercise of this fundamental right is unacceptable. I don't agree with the derogatory caption of the Presidency by the organizers of the demonstration, but impeding their right to peaceful assembly is an affront to democracy--plain and simple," he wrote.
"There have been several peaceful demonstrations under President Akufo-Addo--the arise Ghana demo, the Kume Preko Demo, and the others. Why now? The leadership of the Ghana Police Service must intervene to stop this poor development. This is not the publicity we need on a day such as this...Allow!" he added.
The police have halted the 3-day protest organized by pressure group Democracy Hub aimed at picketing at the Jubilee House—the seat of government to criticize what they term as misrule of the Akufo-Addo-led NPP administration.
The police however acquired an injunction application to halt the exercise on Wednesday, a day before the protest which the conveners ignored.