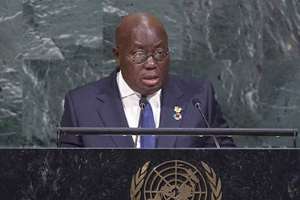 President Nana Akufo-Addo has raised concern over the diminishing mutual trust and unity among countries around the world.
Delivering Ghana's statement at the ongoing United Nations General Assembly in New York, the President said the disintegration of trust between nations poses a major threat to global peace and prosperity.
He observed that trust between countries, which is vital for cooperation on common challenges, has waned significantly.
"The choice of the theme implies that there is general acknowledgement that things are not what they ought to be in our world. The mutual trust among nations that is required to ensure harmony has considerably diminished," President Akufo-Addo told the 193-member assembly.
"The cohesion that we need to build the peace and prosperity of our societies is disintegrating, and nearing Cold War lows," he added.
Akufo-Addo was commenting on this year's UNGA theme of "Rebuilding trust and reigniting global solidarity".
The President joins other world leaders highlighting the urgent need to restore confidence and unity between nations.
His warnings come at a time when conflicts and tensions continue to divide countries on a global scale.