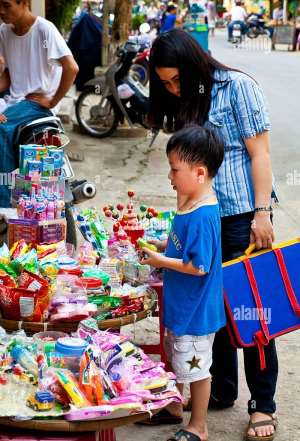 Dr. Anuja Lakra, a Specialist in Internal Medicine, Manipal Hospitals India, has cautioned parents against packaging sugary snacks for their wards to school.
Such snacks include carbonated or soda drinks, cakes, candies or toffees, biscuits, and ice creams.
Dr Anuja, who gave the caution in an interview with the Ghana News Agency, said resorting a child to such lifestyle was dangerous to his or her health as sugar suppressed the immune system.
and could lead to obesity and diabetes in children and adolescents, increase hyperactivity and reduce concentration while impairing vision.
Sugar, she said, also had the potential to cause stomachaches, indigestion, and an Acidic Digestive Tract.
"Sugar is also linked to Asthma in children and adolescents, can contribute to Eczema in children, food allergies and therefore it is children's worst enemy when it comes to bowel movements," she added.
Speaking on the long-term consequences of sugar consumption among children, Dr Anuja said it could lead to Dyslipidemia, Cardiac disease, hormonal imbalance, poly cystic ovarian disease and many other metabolic diseases.
These invariably lead to poor quality of life, frequent visits to hospital, extra expenses on medicine, poor performance at school and work among grown-ups, thereby affecting the economy of every nation, she said.
When considering what to prepare for a child's lunch, she said it was vital to make a nutritious selection as it gave energy, aided in appropriate growth, and could keep a child from becoming unwell.
Dr Anuja said fruits and vegetables were like hitting the lottery as they provided colour to a child's meal as well as vitamins and fibre.
She said children needed fat in their diets to stay healthy and be full, however, she advised that it was not to be eaten in large quantities especially butter and oils which were high in fat.
Choosing whole grains like bread, cereals, rice, and pasta whenever possible was another option as it was superior to refined grains, she suggested.
She admonished parents to prepare a well-balanced lunch containing a variety of food groups, such as grains, fruits, vegetables, meat or protein items, and dairy products like milk and cheese for their wards.
"Parents, please try to mix things up a little: Do you always prepare the same lunch for your child all the time? If their lunch is a bowl of jollof rice, it is time to switch things up. Try something different to keep their taste senses from becoming bored," she added.
GNA