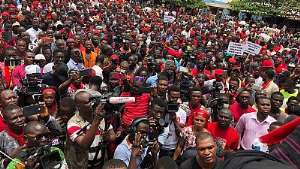 The Ghana Police Service has advised the public not to take part in a planned protest by Democracy Hub scheduled for Thursday to Saturday at Jubilee House in Accra.
In a press statement issued on September 20, the police's Public Affairs Unit said it had "filed an application at the court and successfully served the organizers of a group identifying itself as Democracy Hub in connection with a planned demonstration within the vicinity of the Jubilee House from Thursday, 21st to Saturday, 23rd September 2023."
The statement, signed by Superintendent of Police Juliana Obeng, Head of the Public Affairs Unit, added: "As we wait for the court to determine the matter, we wish to urge the public to take note and disregard any calls from any individuals or groups encouraging them to assemble for a demonstration at the Jubilee House."
The police further urged the organizers "to respect the due process in the interest of public order and public safety."
Democracy Hub plans to stage the protest as it accuses government of mismanaging the economy and demands better relief for Ghanaians facing hardship.
On Tuesday, the group held a press conference where it informed members of arrangements, including providing mattresses, tents and mosquito nets for protesters wishing to sleep over during the three-day protest at Jubilee House.