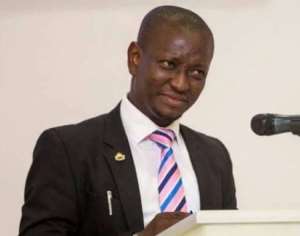 The Deputy Attorney General, Alfred Tuah Yeboah, has announced his intention to seek daily hearings in the case of Nana Appiah Mensah, also known as NAM 1, the CEO of the now-defunct Menzgold Ghana Limited. NAM 1 is currently facing 39 counts of fraud and money laundering charges, and the protracted legal proceedings have spanned several years.
Speaking to journalists on Tuesday, September 19, 2023, Mr Tuah Yeboah outlined that the pursuit of daily hearings aims to expedite the legal process and provide closure to the victims of NAM 1's alleged fraud.
He emphasised, "We are of the humble opinion that this is a matter that we must apply to the courts for an expedited hearing, so, at the case management, we will put up that application and request to the court, subject to the court's convenience, to have this matter heard on a daily basis."
In the interim, Nana Appiah Mensah has been granted bail amounting to GH¢500 million, with the requirement of four sureties, none of which need justification.
One of the bail conditions stipulates that he must deposit his passport at the court registry.
This decision comes after NAM 1 entered a plea of not guilty to the 39 counts of fraud and money laundering charges, alongside Menzgold Ghana Limited and Brew Marketing Consult.
His legal representative, Mr Kwame Akuffo, requested that the court maintain the bail condition of GH¢5 million with no justification, a condition previously granted at the circuit court where the case was initially heard before the state entered a nolle prosequi.
The Deputy Attorney did not oppose the bail application.
However, he urged the court to consider the substantial sum of GH¢1.68 billion involved in the case.
Ultimately, the judge granted bail in the amount of GH¢500 million, requiring four sureties without justification.
Additionally, Nana Appiah Mensah must report to the Criminal Investigations Department (CID) headquarters every Thursday as part of his bail conditions.
— classfmonline