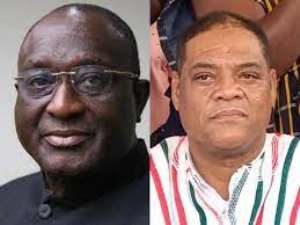 The Convention People's Party (CPP) has debunked media reports revealing that failed NPP Flagbearer hopeful Alan Kyerematen and two-time flagbearer of the CPP Ivor Greenstreet are considering forming an alliance.
According to the Chairperson of the CPP, Nana Frimpomaa Sarpong Kumankuma, the reports are false and must be ignored.
In an interview with Kasapa FM, she said the party is concentrating on rebranding in preparation for the general elections in 2024.
"I am the Chair and leader of the CPP, and I am not aware of a meeting between Alan and the CPP. Maybe, Alan is now thinking of such a meeting. None of the members of the Central Committee of the party knows anything about what has been put out by Ghanaians Times. I Chair the Central Committee of the party, nothing of such has come before me for discussion by leadership of the party," Nana Frimpomaa Sarpong Kumankuma stated.
She continued that if the report is true, then maybe Greenstreet and Alan are planning to form a new party or go independent.
"On the supposed meeting between Alan with Ivor Greenstreet, I think they may be thinking of going independent and not flagbearer and running mate of the CPP because Greenstreet is not the leader of the party. He is been a two-time flagbearer of the party, but in 2024, it's a different ballgame. The CPP is about to elect its flagbearer, we are now in our organizational mode and rebranding to get the party to be viable," she indicated.
This follows a Ghanaian Times Newspaper report that Mr. Kyerematen is exploring the idea of partnering­ CPP's Ivor Kobina Greenstreet for the 2024 general elections.
The newspaper claimed the former Minister for Trade and Industry has initiated talks with the two-time CPP flagbearer for a possible alliance.
It reported that Mr. Kyerematen has held talks with the leadership of the Progressive People's Party (PPP) and the Convention People's Party, political parties that already have existing structures to make the campaign easier.