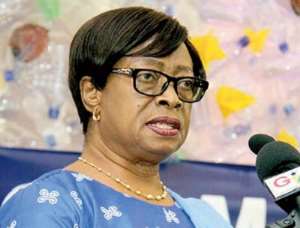 Sophia Akuffo
Former Chief Justice Sophia Akuffo has criticised former President John Mahama for his recent comments regarding the Judiciary.
Former President John Mahama accused President Akufo-Addo of appointing 80 to 100 judges affiliated to the NPP.
He had indicated that if he were re-elected, lawyers associated with the NDC should prepare themselves for judicial appointments to balance the perceived bias.
Justice Akuffo, who has a distinguished legal career and served as Chief Justice during President Akufo-Addo's administration, expressed concern that such partisan accusations could undermine the integrity of the judiciary.
In a recent interview with Accra-based Asaase Radio monitored by ModernGhana News, Justice Sophia Akuffo questioned whether former President John Mahama, during his tenure as President, had also appointed judges favouring the National Democratic Congress (NDC).
"He (Former President John Mahama) has been through the process of appointing other people before. So was it because they were NDC?" she quizzed.
She added, "It always upsets me when you get comments like, "Oh! This one is the NPP judge "Oh! This one is NDC."
"And yet you have never seen the person at any party's rally or platform. And these are some of the unnecessary pressures that are put on the judiciary. What difference will that tag make to me, my career and my work?" she asked.