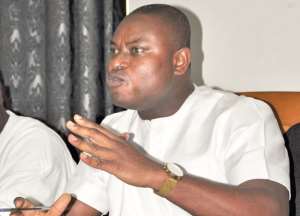 Richard Ahiagbah, NPP National Communications Director
The National Communications Director of the ruling New Patriotic Party (NPP), Richard Ahiagbah has opined on the significance of the the drop in inflation rate to the Ghanaian economy.
The recent figure saw the August inflation drop from 43.1% to 40.1%.
In a tweet on Monday, September 18, Richard Ahiagbah indirectly told the opposition National Democratic Congress members to take note of the fact that government is building the economy back stronger.
"Inflation dropped 3% in August, from 43.1% in July to 40.1%. This is for the other guys to take note that we have turned the corner, building back stronger," he said.
Inflation decline:
The year-on-year inflation for the month of August 2023 fell to 40.1% from the 43.1% recorded in July 2023, the lowest in 12 months.
Ghana Statistical Service's data noted that Food inflation witnessed a decrease to 51.9% in August 2023, from 55.0% the previous month.
Non-Food Inflation also dropped by 2.9% to 30.9% in August 2023.
For the first time in the year, inflation for imported products recorded a rate lower than locally produced items.
Whilst inflation for for locally produced items was 42.4%, inflation for imported items was 36.2%.