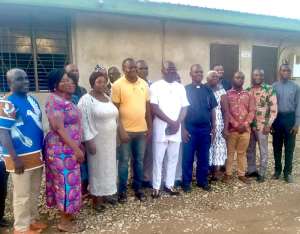 On the 17th of September, 2023, Robert Wisdom Cudjoe, the Member of Parliament for the Prestea Huni-Valley constituency, met with the Prestea Local Council of Churches to address developmental concerns within the constituency.
The primary focus of the discussion was the dilapidated road that runs from Bogoso to Prestea, which has been identified as the most significant challenge facing the constituents.
During the meeting, some solutions were discussed, and the council emphasized the importance of cooperation and collaboration between political parties for the betterment of the constituency.
Honourable Cudjoe expressed his willingness to contribute to the development of the constituency. He expresses gratitude for the warm welcome and productive conversation.
The council pledged their support and prayed for the MP's success in addressing these concerns. They eagerly anticipate the results of these discussions for the betterment of the Prestea Huni-Valley constituency.