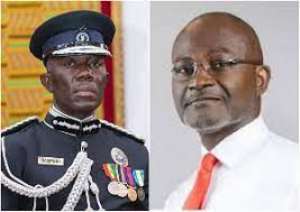 Kennedy Agyapong, chairman of the Defense and Interior Committee of Parliament, and an NPP flagbearer hopeful has issued a warning to the government, cautioning against any potential move to remove the current Inspector-General of Police (IGP), Dr. George Akuffo Dampare from his position.
Mr Agyapong emphasized that such a decision could have dire consequences for the ruling party.
He attributed the significant reduction in armed robberies across the country to the changes and reforms introduced by IGP Dr. George Akuffo Dampare.
Despite his previous criticisms of the IGP, Mr Agyapong commended the police chief's performance.
Speaking on Kumasi-based Kessben FM, Kennedy Agyapong remarked, "If you go to the police headquarters, you will realize that the man (Dr. Dampare) has done well.
"I have fought with him once because of his refusal to act when the killer of JB Danquah confessed to him, but he has done really well."
He pointed out that under Dampare's leadership, there have been fewer reports of murder case and people's money being snatched in broad daylight.
"How often have you heard of armed robbery since Dampare was made IGP? People were being killed and their money was being stolen in broad daylight.
"How many times have you seen this since Dampare came into office? I have called one of the guys (in the leaked tape) who is from my village and blasted him. We don't like change," Kennedy Agyapong said.
He underscored the transformation that has taken place at the police headquarters, crediting it to the foresight and leadership of the current IGP.
"Since I became the head of the defense and interior committee, we have had a number of IGPs, and this man (Dampare) what he has done, I don't think we are being fair to him… Could you not make the mistake of removing him? Under him, the rate of armed robbery has reduced drastically; he has transformed the police headquarters; the place looks so clean and beautiful," Mr Agyapong emphasized.