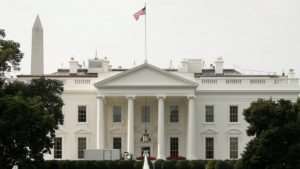 "But if Obama humanised the White House, Trump, defiled it... he pissed on it while a floundering Biden clipped its wings..."
Many Americans are ignorant about the sentiments of the rest of the world about their country and so are non-challant about the increasing weaknesses in their political system and its consequences for the rest of the free world.
But who can blame them?The White House, for many years, was the regal symbol of liberty, human rights, democracy and justice in the world.
And why is this important? Over 5.7 billion people, approximately 72% of the world's population live under authoritarian regimes. In lran, women can't move about without wearing a hijab. In Afghanistan, girls can't go to school because it is sacrilegious.
America, with its free world ideals, has championed the cause of liberty and freedom all over the world for many years. Consequently, the White House has become the symbol of hope and democracy for oppressed people everywhere. No wonder, it is a favorite tourist attraction for many visitors to the United States.
The name White House was adopted by President Theodore Roosevelt (1901-1908). Its white color contrasted sharply with the red color of nearby buildings at the time so the president christened it the White House.
Although far from being a theocracy, the occupant of the White House was deemed to be next to God himself in reputation. He was required to possess not just the best brains, but immaculacy of character to match the aura of the office.That tradition is now in ruins.
I still remember Bill Clinton's visit to Ghana several years ago. Thousands of people poured into Accra from the far corners of the country to behold him. You could tell by the sea of faces that eclipsed the airport to catch a once-in-a- lifetime glimpse of him that a mini-god was passing through Ghana. Indeed, the newspaper clips of our less-divine JJ Rawlings in an electrifying pose with Bill Clinton made waves everywhere.
Bill Clinton's visit was one of the proudest moments of Ghana's fledgling democracy and it did wonders for the country's internal political cohesion. Internationally too, it consolidated our reputation as a burgeoning democracy in a region notorious for coups d'etat and military political flirtations.
Yet, it was Barack Obama who humanised American political power. He demystified the Oval Office by his color and by the racial slurs he suffered from conservative Americans throughout his 8-year presidency.
I visited Washington DC during the Obama years and there was no day l didn't walk to the vicinity of the White House, all the way to the Lincoln memorial to soak in the uphoria of living so close to the seat of American power.
But if Barack Obama humanised the presidency, Trump, defiled it. He pissed on it. He promised to "drain the swamp in Washington." Instead, he became the irritable swamp in Washington.
Beyond his hatred for constitutionalism, love for coca cola and addiction to large crowds, president Trump played second fiddle to Putin and alienated America's allies by his "make America great again" policies.
He also verbally attacked anyone who disagreed with him. We all know about "sleepy Joe," "crazy Joe Biden", "crooked Hillary," "sloppy Steve," "Pocahontas" and many such epithets by which he bullied his opponents.
President Trump ridiculed and destroyed long-held democratic traditions that defined American democratic culture and which made the United States the oldest democracy over the last 200 years.
The panorama of legal suits besieging Trump (91 charges) which culminated in his being mugshot at an Atlanta jail is reflective of his morbid egocentrism and antagonism for the rule of law. The presidency had never been so insidiously brutalised by an individual.
By contrast, president Biden has had a calming, restorative effect over the White House, but only in part. He was afraid of Putin and prevaricated in providing military help to Ukraine as Russian artillery killed hundreds of thousands of women and children in Ukraine.
America requires a president with a youthful bounce, able to inspire hope and national pride abroad. How I wish Biden was younger so he could ascend and descend the stairs more briskly, without having to be so afraid of missing his steps in another fall!
Although a good speaker, he has not been always eloquent. He tries to bite too many words at once and ends up choking and stuttering unintelligibly. He looks tired in his press encounters, he can barely stand on his feet for long.
Hunter Biden's indictment is yet another personal blow to Biden and a new affront to the White House, while Biden himself is being smuggled in for impeachment by the House Republicans.
The last 8 years have diminished the power of the White House significantly. It would get no better should Biden or Trump win a second term. Both gentlemen do not have what it takes to rekindle the flame of American greatness and should retire honorably from politics.
But who would rescue the smouldering White House from decline?