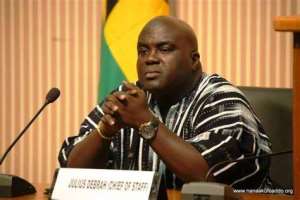 To push for Julius Debrah to be selected as John Dramani Mahama's running mate for the 2024 election, some National Democratic Congress (NDC) members embarked on a health walk.
According to the organizers, the walk was geared towards bringing to the attention of the party the need to select Mr. Julius Debrah as 2024 running mate.
The group identifies itself as, Friends of Julius Debrah are made up of Regional, Constituency Executives and Branch members. They hit the Ayi Mensah-Peduase stretch to embark on a health walk.
Speaking to journalists, one of the leaders of the group, Eric Yeboah Wadie said the selection of the former Chief of Staff will inure to the benefit of the party.
"We believe in the capabilities of Julius as someone experienced enough to partner with His Excellency John Dramani Mahama to garner more votes for the party. Julius is affable, honest, calm in nature, and loved by everybody including some members of the opposition parties," Eric Yeboah stated.
Addressing the gathering after the health walk, Richard Etornam Nyarko, NDC Eastern Regional Youth Organizer of the NDC was convinced Julius Debrah stands tall among all the names that popped up as possible running mates to Mr. Mahama.
"We believe Julius Debrah is someone who can partner John Mahama to win the presidential election. He is someone who is without blemish and resourceful to augment the flagbearer's bid. He has been dedicating resources to the party's progress already. We know people, including resourceful business guys, who want to come on board to help as soon he is selected as the running mate," Richard Etornam Nyarko stated.
The group, apart from the health walk intends to embark on different programs to galvanize more support for him.