In a stunning display of leadership and inspiration, Prince A. A. Sadat, a renowned youth leader and gender empowerment advocate, has been awarded the prestigious award of Akufo-Addo Youth Inspiration Icon of the Year.
This accolade, presented by the Ghana Education Award under the auspices of the National Union of Ghanaian Students (NUGS), recognizes individuals who have made outstanding contributions to the growth and development of the youth in Ghana and beyond.
Prince Sadat's tireless efforts in empowering young people and advocating for their rights have earned him this well-deserved honour. As a passionate advocate for education, he has tirelessly worked to ensure that every young person has access to quality education and equal opportunities. Through his organization, Prince Sadat Change-Makers Foundation, the Administrator of the NPP National Youth Wing has initiated numerous projects aimed at providing scholarships, mentorship programs, and skills training for underprivileged youth.
"Your unwavering dedication, belief, and trust in my vision and leadership have been truly inspiring. This is a testament that my vision and dedication to serving the people have resonated with many, and your support has played a crucial role in my success. I can't thank you all enough," said Prince Sadat.
He added, "Special mention must be made of his Excellency, the president of the Republic, whom this award was named after Nana Addo Dankwa Akufo-Addo, the Second family of the land, H. E. Dr. Mahamudu Bawumia and H. E. Samira Bawumia, Lawyer Justin Kodua Frimpong, NPP General Secretary, Hon. Ken Ofori-Atta, Mr. Sammi Awuku, Lawyer Henry Nana Boakye, Chairman Emmanuel Effah Preko, Mr. William Ofori-Atta, Sheikh Abdul Rahman, the entire youth wing of the NPP led by Commander Salam Mustapha, my friends in the NDC, my colleagues at LECIAD, the PS Change-Makers Team, my family, friends and the entire student movement. Thank you for your support, loyalty, and belief in me. Your contribution and commitment to my growth are greatly appreciated."
He continued, "winning "The Akufo-Addo Youth Inspiration Icon" of the year award is a great honour, and I could not have achieved it without your help. I am humbled and grateful to have such amazing mentors and mentees who believe in me and my work. Your support has been a source of inspiration and motivation for me, and I promise to continue working hard to make a positive impact on the lives of Ghanaian students' home and abroad."
"I dedicate this award to all of you, my followers and supporters, who have been with me every step of the way. Once again, thank you to all my followers and everyone who voted for me. Your support has been invaluable, and I am honoured to have you in my life," he concluded.
Other awardees of the night include, Educational Leadership Award for Visionary - Hon. Dr Yaw Osei Adutwum, MP; Educational Leadership Award for Student Support - Dr Ben Asante; CEO of the Year (Student Support and Innovation) - Dr Richard Ampofo Boadu; Dean of the Year -Prof. Eugene K. M. Darteh; NUGS Alumnus of the Year - Isaac Jay Hyde; Principal of the Year - Rev. Dr. Joseph Nkyi Asamoah; Educational Leadership Award for Private Education - Dr Mary Ashun; Educational Leadership Award for Transformative Education -Dr Michael Boakye-Yiadom; Educational Financing Agency of the Year - Student Loan Trust Fund; Non-Educational Agency of the Year Award (Supporting Education) - Ghana National Gas Company; Education Heroine Award (Private Higher Education Institution) - Ms Shannan Akosua Magee; Education Heroine Award (Special Education) - Ms Roselin Abigail Kyere-Nartey; Research/CSO Agency of the Year - Africa Education Watch; Vice Chancellor of the Year - Prof. Abednego Okoe Feehi Amartey; Heroes Award (Support for Ghanaian Students) - Hon Jefferson Sackey; Student in Diaspora of the Year - Mr Michael Ampedu; Educational Activist of the Year - Sarah Odei Amoani; CEO of the Year (Service Delivery) - Hon Osei Assibey Antwi; Development Partner of the Year- UNESCO Ghana Commission; Doctoral Researcher of the Year - Paa Kwesi Acquah Sam; Outstanding Student Leadership Award: NUGS Special Project - Maxwell Sakyi Dampare; Overall Education Agency of the Year - GETFund; SRC President of the Year – Prince Asumadu, NUGS Executive of the Year - Bridget Ofori Agyemang; Student Activist of the Year – Dr. Christian N. Anderson; Male Student of the Year; Samuel Nana Yaw Smith; Most Influential Student of the Year – Selma Yoda and several others.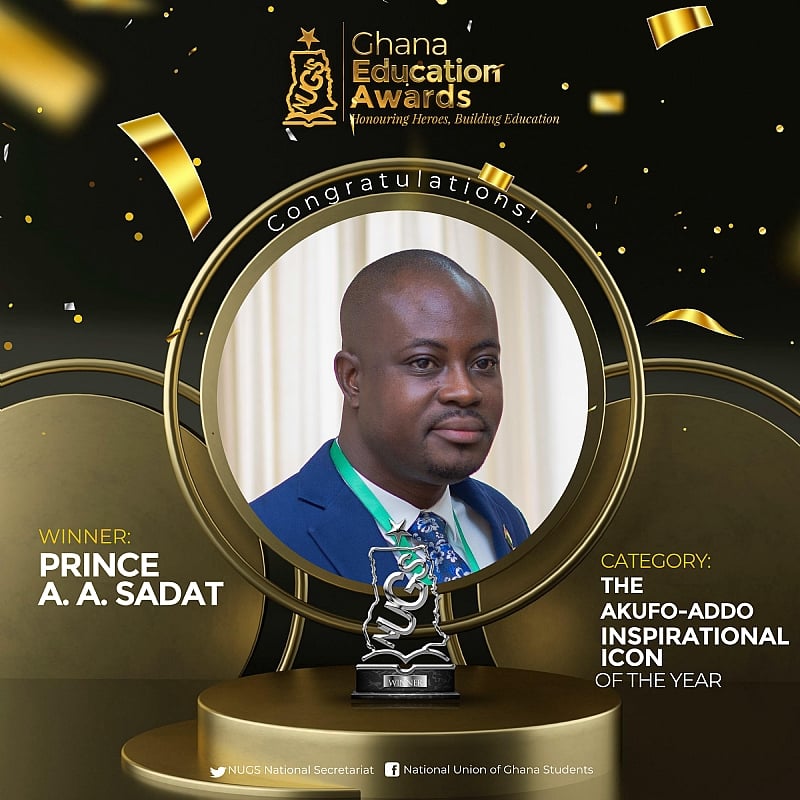 About Prince Sadat
Prince A. A. Sadat is a Law graduate from Wisconsin International University College and currently pursuing an M.A in International Relations and Diplomacy at the University of Ghana, Legon. He is currently the Administrator of the NPP National Youth Wing and a Member of the National Research Team for the Vice President's campaign. He has held several leadership positions in mainstream politics and in student leadership.
The Political Prince is also a philanthropic politician who donated logistics worth over 70,000 Ghana Cedis to the NPP (Upper West Regional Youth Wing, Dome-Kwabenya Youth Wing, Ayawaso North Constituency, Oti Regional Research Directorate, and Volta Regional Research Directorate) towards ensuring victory 2020. He also supported and funded party faithful and students seeking elective offices (Party Executives, NUGS, GUPS, USAG, PUSAG, TTAG, SRC, etc) and educational support with more than 200,000 Ghana Cedis.
He has also worked as Personal Assistant to some of the finest politicians in the country. And his contributions towards the 2016 and 2020 victory of the NPP and H. E. Nana Addo Danquah Akufo-Addo cannot be overemphasized. He is a prolific writer with over 100 publications on social and political issues of national interest to his name; and has received several awards both in the corporate and political space.
The award-winning Law Graduate have over a decade experience within the political space and in the corporate world having worked as Senior Research and Data Analyst at the party's Strategic Office (Number 16) in the last 5 years and with corporate giants like Vodafone Ghana, Fidelity Bank Limited, Glico Life Insurance Company Limited over the last 12 years. He also has a good appreciation of International Relations and Diplomacy having represented the Ghanaian Youth on global platforms like the World Petroleum Council congress in Houston, Texas, USA; the United Nations (UN) Climate Change Conference in Glasgow, Scotland, UK and was also trained in PPP Solutions in Infrastructural Construction in China.