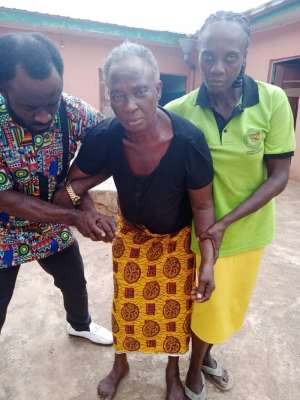 There is a link between witchcraft accusations and widowhood in the communities. And the following incident underscores this connection. In August, a relative drew the attention of the Advocacy for Alleged Witches(AfAW) to the case of Mrs. Asekhamhe from Etsako East in Edo state. The message which was sent via Whatsapp states: " This is late Henry Asekhamhe's mother. She has been beaten like a slave in her own husband's home in Apotse, in Ivioghe, Agenebode, Etsako East Local Government in Edo state. He was accused of witchcraft because she lost her only son in a ghastly motor accident. I am calling on the women's advocacy and human rights movements to come to her aid. Please, I want the whole world to Apotse to ask Ivioghe youths how they knew that she was the person who killed her only son in a motor accident. This barbaric act must stop". The sender attached a video showing a woman who was brutalized and lying on the ground. He also sent us a photo showing the woman being supported by two relatives as she tried to walk.
Although Mrs Asekhamhe sustained serious injuries, she did not die. A relative intervened, rescued and took her to the hospital for some treatment. Some days later, this relative sent us an update: "Good evening, about the case that I reported to you, that is the case of a woman who was accused of witchcraft and subsequently beaten up by some youths. The youths almost beat her to death. I rescued her and took her to the hospital where she is receiving treatment. Today is a week since this incident. She is still in the hospital. I am calling on the general public to help bring those who assaulted her to justice. This woman is a poor widow. She has no child, no son to fight for her".
We phoned to the commissioner of police in Benin, the capital of Edo state but he did not pick up. We later spoke with the state police public relations officer who advised that a complaint be lodged at the area command in Auchi. We informed the relative accordingly. We were also informed that another organization, Braveheart Initiative, was working with the Edo state commissioner for social welfare and gender issues and the state police command to address the issue. Early in September, AfAW received this update from the relative: "I have taken her from the central hospital to a traditional medical center for treatment. First, we took her to an orthopedic doctor and he said that they would carry out a surgical procedure and it would cost about 3.5 million naira. We took her to a tradomedical doctor who charged about 250 thousand naira. The Braveheart Initiative paid a part of the bill, 174 thousand naira for the treatment at the central hospital. I paid the balance of 152 thousand naira. Now I am unable to pay for the treatment that she is currently receiving. I need your assistance this time, Thanks and God bless you all". The AfAW would support the treatment of Mrs. Asekhamhe although we would prefer that she be taken to an orthopedic doctor. We could only pressure the family to take her back to the orthopedic doctor for surgery if AfAW could pay for the cost of the procedure, which we cannot at this moment.
Meanwhile, the Advocacy for Alleged Witches condemns the accusation and subsequent abuse and maltreatment of Mrs. Asekhamhe. She was accused of killing her only son through occult means. I mean, who does that? Moreso, who imagines that a mother, a widow for that matter, could murder her only son? Accidents have rational and commonsensical causes and explanations. Witchcraft is not one of them. Witchcraft is an explanation rooted in fear and unreason. Witchcraft is an imaginary means. Nobody uses it. Witchcraft is an imaginary crime. Nobody commits it.
Of course, irrational and misguided narratives of occult harm are pervasive and motivate people to attack, harm, or murder innocent people. Hence, it has become pertinent to educate the public and reason them out of these superstitious beliefs. It is important to dispel irrational beliefs and misconceptions. There is no evidence that people can harm others through magical, spiritual, or supernatural means. Such claims are based on ignorance and blind faith. Traditional, Christian, and Islamic clerics and diviners peddle these irrational beliefs; they reinforce these baseless claims. These so-called godmen and women claim that there are principalities and powers, blood-sucking demons on the streets and highways, and they cause accidents. But there is nothing like that. These charlatans must be called to order; they should be exposed and held to account. The police should arrest and help prosecute perpetrators of witch hunts and superstition-based abuses. Witch hunters operate with impunity in many places because they are seldom made to pay for their crimes.
As the case of Mrs. Asekhamhe has shown, witch hunters usually target vulnerable members of the population such as children, elderly persons, widows, and others, who are in weak socio-cultural positions. In a patriarchal society, the death of a husband puts a woman in a vulnerable position. It makes a woman a target for oppression and persecution. The AfAW urges state authorities to take effective measures to protect Mrs. Asekhamhe and other victims of witchcraft allegations in the country.
Leo Igwe directs the Advocacy for Alleged Witches which aims to end witch hunting in Africa by 2030