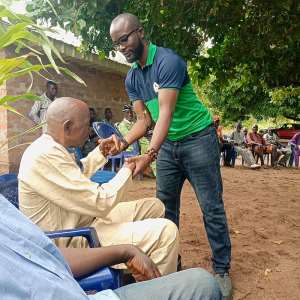 Pa Justin Kyado, a 90-year-old man, was accused of witchcraft last year. Some mob abducted him in the middle of the night, beat him up, and set him ablaze. Kyado survived and on September 9, returned to his community in the company of advocates from Benue state. In his report, the AfAW director in the state, Dooyum Ingye, said, "Last year, the Advocacy for Alleged Witches (AfAW) took up the case of Pa. Justin Kyado who was accused of witchcraft. He was severely burnt by some family and community members. AfAW helped Pa. Kyado receive proper medical attention and also facilitated the arrest and trial of his persecutors. As a post-intervention policy, AfAW continued to monitor Pa Kyado's progress. Pa Kyado has been staying with his daughter since the attack".
A year after the attack, Kyado with the help of AfAW returned to his village, Tse Agena, Mbavur, Mbadzoho Gwer East Local Government Area of Benue State. His return is AfAW's first case of reintegration since it was founded in 2020. Advocates seized the opportunity to engage community members, especially the youths on the illegality of witch persecution and the need to adopt a scientific approach to explaining incidents of death or illness. As a tradition, people consult local diviners when people fall ill or pass away. These diviners point accusing fingers on relatives. The accused are brutally attacked or murdered. Those who attack or murder alleged witches are seldom arrested or prosecuted. In the case of Kyado, it was different.
Since some suspects were arrested and charged in court, relatives have been pressuring Pa Kyado's family to withdraw the case so that they could settle out of court. They asked Kyado to return to the community and pledged not to harm him or engage in witchcraft accusations or persecutions. Our AfAW director in Benue reported what happened. "AfAW advocates arrived Pa. Kyado's hometown by 11:40 a.m., 9th September 2023. Pa. Kyado's family and community members were already gathered at the family compound waiting. Terhemba Kyado, Pa. Justin's younger son, welcomed and introduced everyone present. Thereafter, the local chief Zaki Akende Tagher introduced the AfAW advocates and the purpose of their visit to the community. Previously, the local chief's attempt to get the perpetrators bailed was rejected by the court. The rejection was premised on the brutal assault on Pa. Kyado, insensitivity to his condition, and the constant threat on the life of his daughter, who was nursing him and working with AfAW to ensure that justice is done. Pa. Kyado's family and their lawyer argued that they should be granted bail on the condition they agreed not to harm Pa. Kyado or any member of his family".
As the AfAW director further explained: "The head of Pa. Kyado's kindred expressed displeasure over the attack on Pa. Kyado. However, he pleaded that the family of Pa Kyadoo, AfAW, and their supporters, should withdraw the case as the perpetrators and their families were ready to adhere to any safety condition for the victim. In turn, AfAW's Benue Director insisted that all the community members must refrain from all accusations. The kindred heads agreed and promised to end witch accusations and persecution in their community. Also, the head of every family in the community promised to abide by the resolution. As their tradition demands, the Benue AfAW Director handed Pa. Kyado to the local chief, Zaki Akende Tagher who in turn, handed him to the head of the kindreds, and then to the elders of his family. While handing Pa Justin over to the elders, Zaki Akende Tagher said, "Wanwene ka orya, ka orbatsav ga" meaning "Your son is an elder, not a witch". This process creates a chain of care, responsibility and accountability for the victim's safety and life".
Pa Kyadoo's return provided an opportunity for some community outreach. AfAW's advocates addressed community members, especially the youths. One advocate told the youths that old age did not make a person a witch; that old people were not witches. He said: "If people are sick, consult medical doctors, do not consult local diviners, do not suspect or attack old family members. Do not forget that as youths you will grow old someday so you also stand the risk of being accused of witchcraft". He asked them to seek scientific explanations for illness or other events to eradicate accusations of witchcraft and prevent the horrific and degrading treatment associated with witch persecution. Community members were urged to reach out to Benue AfAW advocates for more understanding of the events or happenings around them.
At the end of the event, the local chief assured AfAW that he would ensure that nobody engaged in witch-hunting or accusations in the community. The AfAW advocates presented some shirts to Pa Kyado and his family. In addition, Pa Kyado was presented with a sum of 50, 000 naira to help him resettle in his community. AfAW will monitor the situation to ensure the safety of Pa Kyado in the coming weeks and months.
Leo Igwe directs Advocacy for Alleged Witches, which campaigns to end witch hunting in Africa.