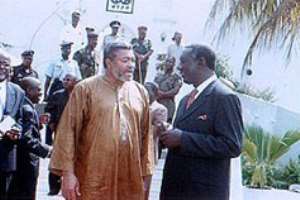 The ruling New Patriotic Party presidential aspirant, Dr Kobina Arthur Kennedy has described ex-President Jerry John Rawlings' boycott of Ghana's 50th Independence anniversary as a very event in the history of the country.
He indicated that Jerry Rawlings has the rights to boycott the ceremony but it would have been better if he attended the 6th March parade at the Independence Square in Accra.
"This is a man who has ruled Ghana for over 19 years, the longest serving leader out of Ghana's 50 years and it is very sad for him to stay away from the event," he added.
Dr Kennedy was addressing of Valco Hall at the University of Cape Coast on their 15th annual hall week celebrations on Wednesday.
Jerry Rawlings boycotted the anniversary despite high powered delegation sent by President John Agyekum Kufuor, inviting him to participate in the 6th March event.
Turning to the students' politics, he advised students to join political parties because they are the future leaders to shape the economy of the country.
He urged them to eschew ethnic, political and religious discrimination so as to ensure peaceful co-existence among Ghanaians.
Speaking on the topic, "the role of students in national development-past, present and future," Dr Kennedy said students must do everything possible to fulfill their aspirations in Ghana by being agents of change to promote national development.
Source: The Chronicle