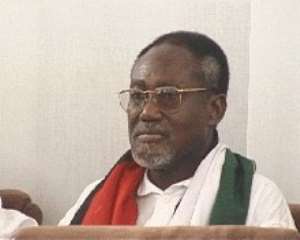 The Volta Regional Chairman of the National Democratic Congress, Mr. Modestus Ahiable, says members of the Democratic Freedom Party, are taking properties belonging to the NDC in the region.
Speaking to Joy News at Dzodze, Mr. Ahiable alleged that members of the DFP have been attempting to provoke the NDC by its actions and utterances.
He said that his party would still try to persuade the DFP to rejoin the NDC.
The two parties have intensified their campaigns to win parliamentary seats in the region come the 2008 elections. The DFP told Joy News that it would win 17 parliamentary seats in the region come the elections.
To achieve that vision, the DFP is establishing offices in the various constituencies and campaigning vigorously to appeal to the electorates.
However, the NDC is not happy with the campaign tactics of the DFP. The former alleges that the latter is taking over facilities belonging to them, a situation likely to generate conflict between the two political parties.
Mr Ahiable of the NDC alleged that the DFP is putting leaflets on their bill boards.
"A case in point which raises eyebrow is when the NDC started an office at Sogakope near Ho…the land was donated to NDC, but when this party came into being, what they did was to quickly run there and completed the building and clad it in DFP colours," he said.
He said the NDC would resort to dialogue to resolve the problem. He urged the DFP to join the NDC because there is no way it could win a single parliamentary seat.
When contacted, the Interim Volta Regional Chairman of the DFP, Mr. Ayi Gershon, denied the allegation by the NDC Chairman.
"We are actually looking for places we can hire but there is nothing like that. There is nothing to show that the place belongs to any other political party before we went in," he stated.