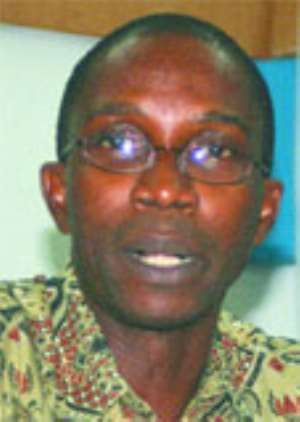 ALTHOUGH THERE have been some successes chalked from some deliberate policies by the government of Ghana to promote the informal sector, there are still problems besetting the development of the sector, Dr. Yao Graham, the Co-ordinator of the Third World Network has said.
He therefore urged the government to do more for the informal sector.
Speaking on the topic, "Changing State Attitudes to the Informal Economy In The Context of Economic Liberalisation" at ISSER Merchant Bank Lecture on Friday, he said problems such as lack of access to credit, low level of technology, insecurity and vulnerability in the informal sector where the youth and women predominate, weak linkages between the informal and formal sector activities, lack of social protection for men and women in the informal sector and inadequate incentives were stifling the smooth transformation of the informal sector into a formal one.
He said that apart from its potential role in providing alternative employment opportunities to the formal sector, the informal sector provides other potential economic and social benefits in Ghana's development efforts. These include the production of goods and services and the creation of activities that maximize both forward and backward linkages between economically and socially diverse sectors. "Its flexible adaptations to labour market fluctuations and its provision of alternative employment opportunities for alleviating the negative consequences of the structural adjustment policies make the informal sector one of the most crucial in Ghana's development efforts".
"The services sector is the fastest growing area of the economy. Ghana has taken on the features of a present day industrialised country with a large services sector without having gone through the prior stage of developing the agriculture and industry base of the economy," he said.
The informal sector is the biggest employment sector and takes well over 80% of labour force in Ghana.
However, it makes a low contribution to Gross Domestic Product (GDP), which points to low productivity.
Majority of employees are women.
He recommended re-thinking and new understanding of the nature of the informal economy and its link with the logic of the economic program.
He also suggested the need for rethinking of the relationship between agriculture for home market and export and encouraged greater dialogue with informal economy organisations.
Dr. Graham further suggested a revision of trade policy and practice to encourage the development of the informal sector.
"Social protection in industrial relations, challenge of creating decent work and public investment and support for Ghanaian private enterprise must be enhanced," he said.