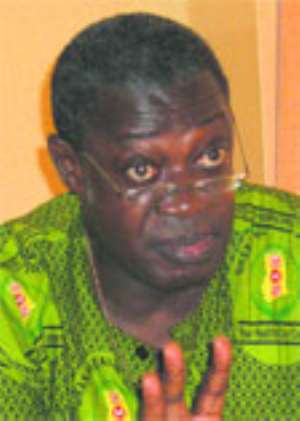 Professor Agyeman Badu Akosa, immediate past Director General, Ghana Health Services, on Friday called on Nkrumahists to restore the dignity of Dr Kwame Nkrumah through intellectual discourses from the unbridled vilification by some political opponents.
Prof Akosa alleged that some political opponents have, over the years tried without success to associate Dr Nkrumah with ruthlessness and draconian laws, adding: "let us give credit where it is due."
Speaking in Accra at the 5th International Conference on Osagyefo Dr Kwame Nkrumah, Prof Akosa said the Preventive Detention Act (PDA) introduced by Nkrumah was legitimate and necessary considering the scale of the destructive nature of the opposition who were at that time bent on assassinating him.
He said Dr Nkrumah created jobs for the youth and in the history of the country, there was a shortfall of workers to take up one million jobs during 1964 and 1965 and wondered whether the same could be said of today, adding "no wonder we are creating a third generation of street children."
He said those who were determined to distort history were the very people who benefited from Dr Nkrumah's policies on education and wondered why they had not put in place those policies for the present generation to enjoy.
Dr Dee Otibu-Asare, Chief Executive Officer, West Africa International Magazine said after the overthrow of Dr Nkrumah, a series of calculated calumnies were published by his opponents and their intellectual allies in an effort to demonize and ridicule him.
Dr Otibu-Asare said, at the time of Nkrumah's overthrow, he had established 68 viable state-owned factories to meet the needs of Ghanaians.
"Dr Nkrumah put all the needed structures in place for successive governments to build on; instead of building on those structures, they dismantled them", he said.
He said 41 years after his overthrow, Ghana was still gasping for breath for survival, with her leaders travelling around the world with cup in hand begging for aid.
Dr Otibu-Asare observed that the Economic Community of West African States (ECOWAS) had chalked little progress, while the African Union "is just a toothless bulldog with their heads of state attending yearly jamborees in the name of conferences."
GNA