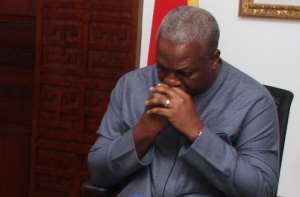 The Center for Democratic Development (CDD) has strongly criticized former President John Mahama for his recent comments regarding the appointment of National Democratic Congress (NDC) lawyers to the judiciary, describing it as a threat to Ghana's democracy and justice system.
Paul Aborampah Mensah, the Senior Programs Officer at CDD-Ghana, expressed his concerns during an interview on Morning Starr with Francis Abban on September 4, 2023.
Mr Mensah argued that Mahama's statements were detrimental to Ghana's constitutional regime and the principles of equality under the law and justice for all.
"It is a dim to Ghana's democracy, it is a dim for our fight for equality of law under our constitutional regime. It is dim for justice for all.
"If I hear politicians and especially people who have held the highest position on our land saying this, then probably they are trying to tell us the experiences they've had and probably the kind of structures they had when they were in office," Mr Mensah stated.
He pointed out that CDD had condemned incidents that threatened the integrity of the justice system in the past, when the New Patriotic Party's (NPP) "invisible forces" invaded a court in Kumasi.
Mr Mensah emphasized the need for politicians to refrain from making statements that could undermine the credibility and independence of the judiciary.
Former President John Mahama recently alleged that President Akufo-Addo's administration has appointed 80 to 100 NPP judges to the Ghanaian courts to avoid accountability after leaving office.
Speaking at the closing session of the 3rd Lawyers Conference organized by the NDC Lawyers Association in Akosombo, Mr. Mahama claimed that some of the lawyers appointed to the bench were known NPP figures.
He stated, "Our lawyers, some of you must be prepared to go onto the bench. I know that some of you have very lucrative legal practices you will not want to leave and go onto the bench.
"But you can see what the current President has done, he appointed the largest number of judges onto the bench. More than 80 towards a hundred and counting.
"He's packed the court, and we know that they've packed the court because they want to avoid accountability after they have left office."
Mr Mahama's comments sparked a debate about the politicization of the judiciary and the appointment of judges based on their political affiliations.