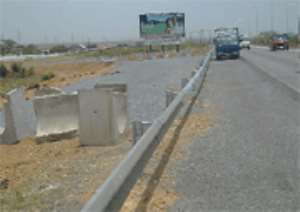 The access road linking the Tema Motorway to Trasacco Valley has been closed.
The road was opened temporarily to facilitate the free movement of dignitaries and guests who were invited by the government to attend the Golden Jubilee Independence anniversary on March 6, 2007.
The Deputy Minister of Transportation, Mr Magnus Opare-Asamoah, told the Daily Graphic that the Ghana Highway Authority (GHA) closed the road in fulfilment of the promise the ministry made before the road was opened.
He said other access roads linking the Motorway, which were closed but had been opened by unauthorised people would be closed again.
Before the road was opened, the acting Minister of Transportation, Mr Felix Owusu-Adjapong, said the ministry took the decision to open it in view of the importance attached to the dignitaries and guests invited to the March 6 celebration.
The public expressed concern about the measure, expressing fear that the access road would result in accidents on the Motorway.
Motorists and passengers have, therefore, expressed satisfaction at the closure of the road, saying that those who plied the Motorway lived in fear of their lives when the road was opened.
They were, therefore, happy that no accident occurred when the road was opened and commended the government for living up to its pledge to close the road immediately after the March 6 celebration.
In February this year, Trasacco Estate Development Company, a leading firm in the real estate industry, donated nine houses to accommodate some of the dignitaries who would attend the Ghana @ 50 celebrations.
The houses were two Viscounts, three Senators, one Tsar, one Marquis, one Regent and one King.
The donation necessitated the construction of an access road at the request of the government, to enhance the movement of the dignitaries through the Motorway.
In a letter to the company, the Chief Executive of the Ghana @ 50 Secretariat, Dr Charles Wereko-Brobby, expressed the secretariat's profound appreciation to the company for its wonderful gesture in supporting the 50th anniversary of the country".
Story by Emmanuel Adu-Gyamerah