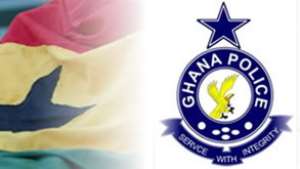 Some young men and women, mostly Nigerians, and their computers (below) after their arrest by police in an operation at Sakumono.
Briefing the press after the arrest, Deputy Commissioner of Police Emmanuel Kwakye, Tema Regional Police Commander, said the suspects were illegally living in the country.
'The computers and accessories seized from them were hooked to the Internet.
He added that other gadgets found on them also suggest that the suspects are fraudsters who use the Internet to lure unsuspecting victims from overseas into the country to dupe them, thus bringing the country's name into disrepute in the eyes of the world.
He said the computers were being analysed critically for evidence relating to Advance Fee Fraud and other crimes.
The suspects have been remanded by the Tema Circuit Court to enable police to complete their investigations.
Mr Kwakye reiterated the Regional Police Command's resolve to continue the fight to reduce crime to the minimum in the Tema municipality and beyond and urged the members of the public to volunteer information on the activities of criminals to enable the police to achieve their aim.
Comments (0)
Subscribe to this comment's feed
Write comment
Name
Email
Website
Title
Comment
:(', 'jc_comment'); return false;">
Please enable JavaScript to post a new comment