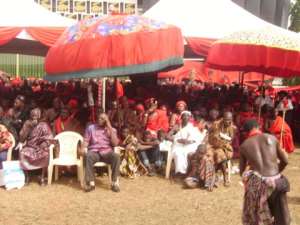 Two Kingmakers of the Ga Royal Stool have dissociated themselves from a statement giving a one week ultimatum to the new Ga Mantse to step down.
The release which was faxed to Joy News and dated 16th March 2007said Dr. Jo Blankson is not the Ga Mantse, and that the Ga Traditional Council has one week to stop what it called an anomaly in the Ga state.
Seven of the kingmakers including Squadron Leader Tagoe and Joe Bene who both have their signatures on the document, have denied signing any such statement.
"Yes, I do recognize my signature but we are not aware of this press release dated 16th March. I'm surprised to hear that there's a press release coming out. It's an impersonation."
"I don't recognize the letter head because in the 1st place there has been some omissions which I wouldn't entertain if I were to produce this letter. This release is fake and it is not coming from the royal stool of Dsaase".

The Coordinator of the kingmakers Sqn. Ldr. Tagoe however said they still do not recognize the current Ga Mantse, and will soon issue their own statement on the matter.
"What is happening, the Dsaase per say is not happy because Jo Blankson has not passed through the paramount stool Dsaase. We are coming out with our own version of the whole situation", he said.