Kufuor Advises Party Gurus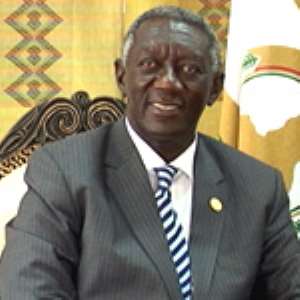 Political experience and the ability to hold together the New Patriotic Party (NPP) should influence the choice of the party's 2008 flagbearer, President Agyekum Kufuor, has counselled.
He said, whoever emerged winner in the race to lead the party to the elections should not only be a uniting force to the party but must have the ability to carry along with him majority of Ghanaian voters.

"It is therefore important that even as we exercise our emotion, we should balance it with good judgement."

President Kufuor was addressing an international delegate's conference of the NPP attended by representatives from the United States (US), Canada and across Europe in London yesterday.

The National Chairman, Mr Peter Mac Manu and other national officers, including Madam Ama Busia, a Vice Chairman, joined them.

President Kufuor allayed any fears about imposition of a candidate on the party, saying, that was alien to its tradition and that the selection would be done democratically. He told the conference that the Government has worked to the party's visions and principles of democracy, good governance, respect for human rights and the rule of law and that it was this that was drawing increasing international attention to the country.

"We are not a party of convenience nor are we opportunists. We believe in humanity and the common good of our people."

President Kufuor asked them not to give in to the negative propaganda that the Government was detached from the party, describing that as untrue. He advised the diasporan party supporters to prepare and organise well to win more support for the party, especially so with the passage of the Representation of the People's Amendment Act.