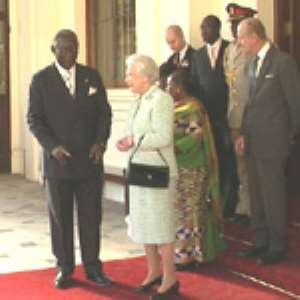 President Kufuor of Ghana has ended his 3-day State Visit to the UK. President Kufuor and the Her Majesty the Queen accompanied by their spouses, Mrs Theresa Kufuor and the Duke of Edinburgh, respectively, walked down the Grand Entrance of the Buckingham Palace where the First Couple of the Republic of Ghana bid farewell and took leave of the Royal Family.
After a very simple ceremony of handshakes the Ghanaian First Family and their entourage boarded the vehicles and were taken to the Royal AirForce Northolt en route to Liverpool.

In Liverpool, President Kufuor and Mrs Theresa Kufuor were received at the St George's Hall of the John Moores University by the Vice Chancellor, Prof. Michael Brown and called on Councillor Joan Lang, Lord Mayor of Liverpool.

At the St George's Hall of the John Moores University, President Kufuor was robed and an Honourary Fellowship conferred on him by the Vice Chancellor. A Cap and Scroll presented to him in confirmation. He also delivered the Roscoe Lecture.

President Kufuor later visted the Merseyside Maritime Museum. He recounted profound memories of his first arrival in Great Britain at the port of Liverpool by boat from Ghana.