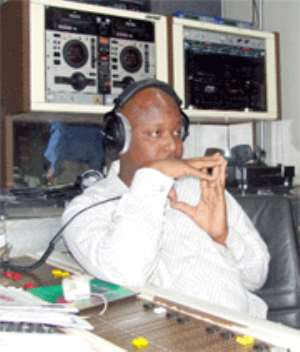 It was a rare interview and it was well publicised much in advance. Many listeners of Peace FM had expected to hear former President Jerry John Rawlings speaking live on the station's morning show, Kokrokoo last Monday.
Following on the heels of a similar interview with the sitting president, Mr. J.A. Kufuor about a week earlier and knowing Mr. Rawlings' forthrightness on national issues, the Kokrokoo interview was billed to be interesting.
This was not to be, however, as a few minutes before the host Kwami Sefa Kayi could be cued to begin the interview, everything went dead. Peace FM was off air leaving the host, production team and the technicians all flustered.
How did it happen? Kwami Sefa Kayi has the answer: "I was there before 7am, the interview was scheduled for 8.30am. The crew came in and we started sorting ourselves out. At about 7.50am the transmission went off.
The technical people tried to restore it but it went off again and it just won't pick".
The interview had to be cancelled for that day. Since then several suggestions have been made by people about why the transmission failed with some concluding that it was machinations of National Security or the National Communications Authority (NCA) or both.
"I don't know if somebody did it or not and I don't want to be dragged into that kind of argument," is how host Sefa Kayi puts it. "As far as I know our radio station went off and that's it".
Fadda Dickson, Finance and Administration Manager at Peace FM shared a similar view. "We had some problems with our mast hence the failure of transmission and therefore cannot attribute it to the NCA".
Dickson added that officials from the NCA were at the station to find out what the problem was and he was sure that it could not be their doing. "I am convinced that it was a technical problem which as I speak to you technicians are trying to solve".
According to Sefa Kayi the incident was not as frustrating to him as it was demoralising. "I was looking forward to the interview and my listeners were waiting to hear it too. In such a situation what could one do?"
Asked whether there were any moves to stop the interview from any quarter ahead of time Kwami Sefa Kayi said there was no such thing.
"Some had called to express their misgivings about the interview and yet others had called to express their support for it. Even within the NDC there were those who were in support and those who were against it; I am sure it was the same in the NPP."
Kwami admits that it was very difficult arranging the interview. "Don't forget that other radio stations have been trying to get Mr. Rawlings to talk to them and it was therefore not easy at all for us to arrange this, but thanks to the likes of Victor Smith we were able to do it".
He is confident that the interview would come on next week. "Mr. Rawlings has agreed to speak to us next week. He travelled this week and hope to be back by Saturday. We are not giving up. If it doesn't happen on Monday it will happen on Tuesday or even Wednesday".
Mr Victor Smith, Special Aide to the former President, Jerry John Rawlings, who helped set up the interview, told Showbiz that he believed what happened was due to external forces.
"Is press freedom real in this country?, he asked. "What happened was not a coincidence but a clear case of someone pulling the plug because the former President Rawlings was going to be interviewed.
"I have information that some government officials tried to influence Peace FM over last weekend to postpone the interview because the timing was not right. According to my information, Prez Kufuor was to be honoured by the Queen of England and Mr Rawlings' interview may spark certain issues that may not be very pleasant."
Mr Smith said since failure of Peace FM's equipment, he had received numerous calls from people condemning what happened. " My phone keeps ringing and people have voiced their sentiments conerning the issue. I have calls from even govt officials who complained bitterly that it was bad for the government. They have been condemned by their own people.
" Stopping the former President from being heard is just not right. If J.J. Rawlings has anything to say, he has the right as a citizen of this country to do so. Allow him to talk and if he says something bad, then he can be taken on but you do not stifle the flow of information.
Trying to clamp down on press freedom is not right. Why shouldn't J.J. be allowed to talk when Prez Kufuor was given the opportunity to talk for close to two hours on the same station about 10 days ago?"
In a related development, the CEO of the NCA, Major Eric Tandoh (retd) has told the Crusading Guide newspaper that his outfit does not have an equipment that is capable of jamming or disrupting radio programmes.
He told the paper that he was surprised that some people were accusing the NCA for sabotaging the programme.
"We are just regulators and our role is to ensure that proper services are given to the general public. We do not have the equipment to do sabotage as is being speculated", he said.
Story by Francis Doku