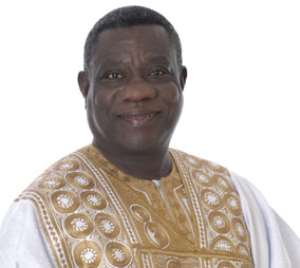 Like the morning star that disappears gradually without any notice, members of the opposition National Democratic Congress (NDC) who had gathered at the collation centre at the Busunya Secondary School to celebrate the fruits of their labour, after a hard campaign for the Nkoranza North Constituency seat in last Tuesday's by-election, did a vanishing act.
As the results of the bye-election began trickling in at the collation centre, some national and regional executive members, including their National Chairman, Dr. Kwabena Adjei, National Youth Organizer, Haruna Iddrisu, National Organizer, Mr. Ofosu Ampofo, the Brong Ahafo Regional Chairman, Mr. John Owusu Agyemang, Techiman South Constituency Organizer, Mumuni Saaka, aka "Koto Kata" and some Members of Parliament and Ex-Ministers of State, started beating a retreat.
According the Chronicle newspaper, the only person who mustered courage to withstand the heat under his shoes was the Akwatia-born Baba Jamal, who sat in the midst of EC officials, the media and New Patriotic Party (NPP) loyalists till the final results were pronounced by the Returning Officer.

Baba Jamal was the centre of attraction, as his opponents from the NPP teased and mocked him. But Baba could not be silenced as he retorted, challenging that the NPP did nothing extraordinary because they could not attain their prediction of winning 80% of the votes.

With the results of 14 polling stations yet to be collated to enable EC declare the final results, Baba Jamal stood up and shook hands with his NPP counterparts, as if he was conceding defeat. But when The Chronicle inquired from him whether he was giving up the battle, Baba said, "I still have confidence that NDC will win the election and so I will not give up".
The results of the final 14 polling stations were delayed, due to difficulty in accessing the villages where they were cited. Tractors had to be used to cart the ballot boxes to the collation centre.
Declaring the final results, the Returning Officer, Mr. Samuel Owusu Adjei declared Major (RTD) Derek Oduro, the NPP candidate as the winner, having pulled a total of 10,179 votes, representing 63.64% as against his closest rival Dr. Kofi Amoako-Gyampah of the NDC's 5,694 or 35.60%.

The Democratic People's Party (DPP) candidate, Mr. Osei Bonsu Jnr covered the rear, harvesting 122 votes, representing 0.76%.
Total votes cast was 16,377, comprising 15,995 valid votes and 382 or 2.33% as rejected ballots.
Total registered voters in Nkoranza North were 23,753, thereby recording a turnout in percentage of 68.95%.
In the last parliamentary election, the NPP's Eric Amoateng recorded 9,144 representing 48%, H.F.C Amoako of the NDC polled 5,402 representing 28%, whilst an Independent Candidate, also an NPP breakaway candidate, had 4,354 representing 23% with 590 ballots being rejected, bringing total votes cast to19, 490.
Culled from the Chronicle