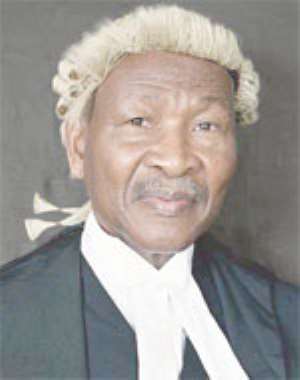 •Over Tarzan
A renowned legal practitioner, Mr. Sam Okudzeto says the inability of Parliament to compel Dr. Charles Wereko- Brobbey, Chief Executive Officer of the [email protected] Secretariat to appear before and account for his stewardship smacked of weakness.
This apparent lack of power which Parliament displayed in that matter was enough to 'undermine its own authority as the country's legislature,' he noted.
Mr. Okudzeto was contributing to a roundtable discussion on "progress towards the rule of law and constitutionalism in Ghana," in Accra, organized by the Centre for Democratic Development.
He cited an instance when he, at 34, chairing the Public Accounts Committee of Parliament, invited the then chairman of the Cocoa Marketing Board to appear before the committee.
He said he had already told a couple of parliamentarians that their action regarding the Wereko-Brobbey invitation was a complete sign of weakness.
Describing the appointment of a Minister for Parliamentary Affairs by the President instead of the Speaker of Parliament doing so, as a dictatorship, Mr. Okudzeto who described himself as an NPP member said the country's constitutions, since independence, had always created some "dictatorships" for the president.
"But the creation of too much power for the president was not Nkrumah's fault; it was those faceless people around him."
It should not be misconstrued that President Kufuor was the one being attacked; it was the system that was being attacked, he said.
Mr. Okudzeto questioned the high level of lawlessness in the Ghanaian society.
"Sometimes, I wake up in the middle of the night, shudder and ask myself why there is so much corruption in the system.
These wrongs are strangulating our society and choking us."
He observed that the system was not only at the hierarchy, but quite pervasive at all levels: "Do you know that registrars in the court are the most corrupt," he asked.
Mr. Okudzeto called for a constitutional amendment and mental re-orientation in the country, saying it was rather unfortunate that "history has never been made a compulsory subject in this country."
Mr. Okudzeto said the fact that the Biblical Jews told their children about their past enslavement in Egypt, helped in charting a new national course.
A retired diplomat, Mr. K.B. Asante was not happy that people were branded or tagged partisan anytime they expressed their sentiments on certain national issues.
It was that situation, he pointed out, which made it seem almost "a treason for the country's MPs to vote against their parties."