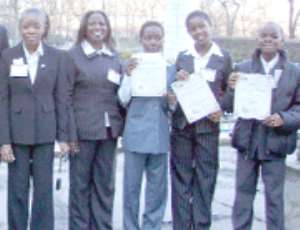 Ghana won seven awards at the just-ended model United Nations session for high school children held at the United Nations Headquarters in New York, United States of America.
The country's delegation that represented her at the United Nations High Commission for Refugees (UNHCR committee) also emerged the overall best delegation.
It was the first time Ghana took part in the first cycle edition of the model session organised by the United Nations Association of the United States of America under its Global Classroom Project. Merrill Lynch are the global sponsors of the event.
Ghana was represented by 18 children who emerged winners in a national selection competition held in Accra last year.
They were accompanied to the United Nations by officials of Lifelink Friendship Schools led by the Executive Director and Country Representative, Ernest Gyimah-Danquah; Programmes and Projects Officer, Bernice Adoma; and Communication Director of the organisation, Emmanuel Arthur.
Over 6,000 high school children from 21 countries across the globe took part in the model session, an annual event to provide opportunity to young people to learn diplomatic practices that culminate in resolution of issues of global concern to the United Nations.
They discussed a wide range of issues including challenges of the millennium development goals, the refugee situation in Africa and good governance.
Mr Ernest Gyimah-Danquah told newsmen in New York that the honours were expected to inspire the country to do more towards next year's competition.
While in the United States, the delegation also paid a courtesy call on officials of Ghana's Permanent Mission to the United Nations and the Henry Street High School for International Studies.
Ghana's participation was supported by North American Airlines, TT Brothers and the United States Embassy in Accra.