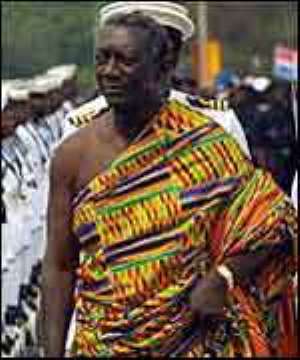 President John Agyekum Kufuor on Monday arrived in London to begin a three-day historic state visit at the invitation of the British Monarch, Queen Elizabeth II.

He is accompanied by the First Lady, Madam Theresa Kufuor and a high powered delegation, including the Chairman of the Council of State, Professor Daniel Adzei-Bekoe and another member of the Council, Madam Ama Busia.
Foreign Minister Nana Addo Dankwah Akufo-Addo, the Minister of Information and National Orientation, Mr Kwamena Bartels and some senior Government officials are all part of the President entourage.
The visit is designed to reinforce the historical and political links between Ghana and her former colonial ruler, Britain, and also showcase Ghana's economic and political success story with a view to getting more development support for the country.

The highlights would include bilateral talks with Prime Minister Tony Blair, the Leader of the British Opposition Party, the Commonwealth Secretary General and the leader of the Liberal Democrats.

President Kufuor's other engagements would involve holding business meetings with the West African Business Association and the Commonwealth Business Council, working breakfast with African Heads of Mission and a major policy statement at the Royal Institute of International Affairs.

Additionally, he would deliver a lecture at the Liverpool John Moores University, where he would receive an Honorary Doctorate Degree.

Ghana and Britain have maintained excellent relations since Ghana's independence in 1957 with the former colonial master being its biggest trading partner.

Trade between the two stood at 221 million pounds sterling for the period between January and September 2006.
Meanwhile a group of Ghanaian gay rights advocates say they would seek audience with President Kufuor while he is in the UK to press home their fight for recognition in Ghana.
Source: GNA