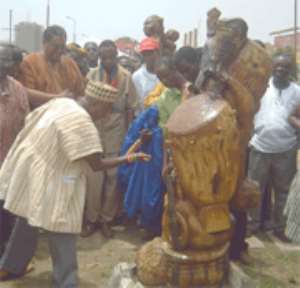 Thirteen sculptures depicting Ghana's rich cultural heritage have been unveiled in front of the offices of the Department of National Lotteries (DNL)located on the High Street in Accra.
The sculptures, an initiative of Prof. Harry Fancey, a sculptor, were carved out of neem trees and sprayed with chemicals to make them durable and water-resistant.
Apart from depicting Ghanaian culture, they are also intended to beautify the city as part of Ghana's Golden Jubilee celebrations.
The first of its kind in Accra, it took Prof. Fancey 10 months to carve the sculptures at a cost of about ¢400 million.
They bear such names as 'the twin mother' which signifies unity, 'the money saver', 'after the win,' which depicts joy, 'honours of plenty,' signifying the fertility of the people, among other names.
Prof. Fancey said he conceived the idea to carve the sculptures when he realised that the neem trees which had initially served as a shade for the mentally retarded had been left unattended to, after the trees had been cut to discourage them from taking shelter there.
He said he drew a proposal, which he sent to the Ministry of Tourism and Diasporan Relations informing them of how the trees could be transformed to serve as a tourist attraction.
"The ministry liked the idea and approved it and provided the necessary assistance and funding", he added.
Prof. Fancey noted that although many people admired sculptures, the industry was faced with many challenges such as the lack of tools for sculpting and modelling.
He said further that the high cost of cement had also affected their work, since it was one integral factor, apart from clay, militating against sculpting.
Prof. Fancey denounced the activities of some craftsmen who deceived unsuspecting buyers by selling to them wood that had been treated with chemicals to look like antiques and entreated them to use the right materials and offer correct information to buyers.
Minister for Tourism and Diasporan Relations, Mr Jake Obetsebi-Lamptey, who unveiled the sculptures, advised craftsmen to open their eyes to appreciate animate and inanimate things which could be used to promote tourism.
He congratulated Prof. Fancey on his insight and imagination in carving the sculptures, which he said had contributed to the beautification of the capital.
The Deputy Director of Operations of DNL, Mr George Addo Yobo, urged all to keep the sculptures well as national assets.
Story by Bella Frances Nkansah