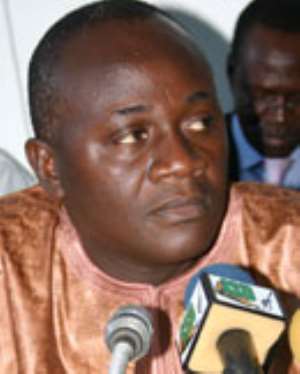 THE FORMER Information Minister, Mr. Dan Kweku Botwe, has made it clear that he will combat corruption to the marrow when given the nod to lead the New Patriotic Party (NPP) in 2008.
"I will let all the institutions work to provide the needs and aspirations of the people," he told Central Region press at Cape Coast on Thursday evening after he had toured the Region and confirmed his ambition to contest for the NPP presidential slot scheduled for December this year.
According to him, he would fight corruption to the extent that people will refrain from engaging in such nefarious activities, which he claimed, retrogressed the clock of development.
"I will fight corruption like anybody's business. I have ideas on that," he said.
Mr. Dan Botwe said NPP government has laid solid foundation but it could do better than it has done to uplift the economic standards of Ghanaians.
He said when given the nod, agriculture with reference to extension services and education with reference to teachers' welfare will top his priorities.
He said his father was a teacher who made a difference in the lives of many people wherever he found himself and that the role of the teacher cannot be over emphasised.
Mr. Botwe, who was booted out of office during the ministerial reshuffle in April 2006, said the NPP is going to meet stiff opposition in 2008 because the party cannot tell Ghanaians that they inherited a bad economy adding that Ghanaians will judge NPP by their performance within the eight-year period.
Turning to his tour of the Region, he said indications are that the executives received his message with rapt attention, which gave him hopes of pulling a surprise at the impending delegates' congress.
He said the people knew his body language because he had been a General Secretary since 1998 so he knew the intricacies of organising the grassroots for victory.
"It is sad for some aspirants to claim that because they are matured it is their turn to assume leadership of the party," he said, debunking the speculation that he was too ambitious with regards to his age.
Mr. Botwe said at the appropriate time he will respond to the age criticisms as and when they surface and how they are used.
He cited Dr. Kwame Nkrumah, first Ghanaian President, Dr. Hilla Limann and Jerry John Rawlings, who were voted for by Ghanaians while in their forties.
He said the country needed honest and sincere leaders to lead Ghana into the promised land.
Touching on aspirants' fee of ¢500 million, Mr. Botwe said, that was a suggestion from Mr. Appiah Menkah, Chairman of NPP Council of Elders and that three months to the primaries, the national executives will come out with an appropriate fee.
Mr. Botwe promised clean campaigning during the primaries in order not to jeopardise the chances of the party in retaining power.