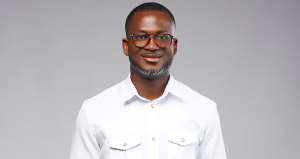 Fanteakwa South Constituency 2nd Vice Chairman of the ruling New Patriotic Party (NPP) Joseph Nana Akomeah has resigned in an official statement issued on Saturday 19th August, 2023.
Nana Akomeah Jnr, as affectionately called indicated that his decision was informed by calls to contest the parliamentary seat on the ticket of the party.
Speaking to Kwabena Nyarko Abronoma of Bryt FM after his resignation, Nana Akomeah Jnr said he took the bold decision to contest the parliamentary seat after several calls by delegates and constituents for him to represent them in Parliament.
"The calls by my constituents and delegates have been persistent over the past years and I think it is time to respond to their calls. As a staunch member of the party with good standing, I believe it is time for me to be in Parliament to be able to do more to support my Constituents," he stated.
Nana Akomeah Jnr has been helpful to the quality of education in the area by supporting the district Education Directorate, schools and also organising mock examinations for BECE candidates.
He however expressed gratitude to the rank and file of the party for the support and opportunity given him to serve.
He again pledged to continue to support the party as it gears up for the general elections in 2024 and beyond.