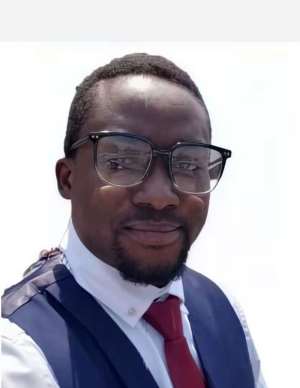 The Bank of Ghana is facing growing scrutiny for its apparent lack of oversight over the quick credit and digital loan sector, raising questions about consumer protection and the behaviour of regulated entities within the lending industry.
Dr Mark Tampuri, a prominent finance lecturer, has raised his voice over what he views as the Bank of Ghana's negligence in upholding fair practices in the realm of digital lending. This comes at the back of numerous videos of staff of Quick Credit and Investment Micro-Credit Ltd (Quick Credit) involved in aggressive and in some cases fighting with defaulters on the streets of Ghana.
In an exclusive interview, Dr Tampuri shared his concerns about the unchecked practices of regulated financial institutions that offer quick credit and digital loans. He asserts that the Bank of Ghana has been overlooking these entities as they charge steep interest rates, resulting in exploitative lending terms.
"Consumers are seemingly taken for granted as the Bank of Ghana appears to allow regulated entities to charge interest rates as high as 10% per month, translating to a staggering 40% for just 4 months. This is a matter of serious concern, particularly for vulnerable borrowers," Dr Tampuri emphasized.
Dr Tampuri criticized the troubling conduct displayed by certain financial institutions when dealing with borrowers who default on their loans. He pointed to instances of alleged harassment, verbal abuse, and even physical altercations, highlighting a grave departure from the ethical standards that should govern a well-regulated financial sector.
"The actions witnessed in these cases are a far cry from the operational standards that regulated financial institutions should adhere to," Dr Tampuri asserted. "The Bank of Ghana holds a critical responsibility in ensuring that lending practices align with ethical norms, prioritize consumer welfare, and maintain the dignity of borrowers…Anything short of ensuring that all financial entities, including those operating in the digital lending sphere like Quick Credit, adhere to equitable lending practices and stringent consumer protection standards is negligence."
In response to a query about borrowers who might be borrowing with no intention of repayment, Dr Tampuri offered insights. "Loans contracted with the intent of defaulting are indicative of inadequate lender appraisal," he explained.
He stressed that while quick credit offer loans, they also have a duty to lend responsibly and allocate funds to borrowers who not only require financial assistance but are also genuinely willing and capable of repayment. Dr Tampuri indicated that any deviation from this responsibility by quick credit platforms could be counterproductive. He acknowledges that Quick Credit and Investment Micro-Credit Ltd's intentions to recover their loans are understandable. However, he advises them to carefully reconsider their lending policies in light of the recent controversies that have brought their practices into sharp focus.
Amid the proliferation of digital lending platforms and quick credit services, Dr Tampuri underscored the pressing need for immediate action to address these challenges. He called upon the Bank of Ghana to strengthen its regulatory mechanisms and adopt a proactive approach to holding financial institutions accountable for their actions.