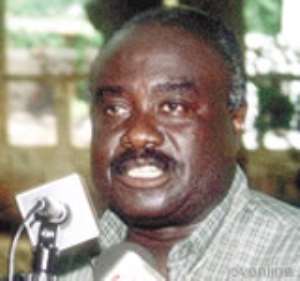 The Chief Executive Officer of the [email protected] Secretariat Dr. Charles Wereko-Brobby has condemned the media for what he says was an attempt to scandalize the Golden Jubilee celebrations.
Several media analysis of the event questioned the basis for spending 20 million dollars on the Jubilee, when several sectors of the country were in dire financial needs.
Dr. Wereko-Brobby says the negative publicity the Secretariat received prior to the 6th March highlight contrasted with the overwhelming interest and patriotism Ghanaians exhibited on the day.
He was speaking to Joy FM's Israel Laryea on the aftermath of the event and what is next for the Secretariat he heads.

Dr. Wereko-Brobby described the Independence Day highlight as overwhelmingly successful and said though the media concentrated on criticizing and finding faults with the work of the Secretariat, Ghanaians came out in their numbers to join in the celebration.
"The media spent an awful lot of time, virtually all the time trying to sell this country down but it failed spectacularly and the people of this country have shown overwhelming love of country and the visitors who came were overly impressed about the sense of nationalism and patriotism of Ghanaians. You people should put your tails between your legs, eat humble pie and say that despite your best intentions Ghanaians rallied to the flag."
The [email protected] boss said even though there might have been certain flaws with the organization there was so much that went very well. He says there are some lessons the Ghanaian media must learn for posterity.
"Mine was to put up a celebration for Ghanaians and it was an overwhelming success. How do we build on the overwhelming show of this success. That is what we should be talking about. There is only one infallible being, I'm sure when you run your radio stations not everything goes perfectly but if you want to dwell on what didnt go on perfectly on the assumtpion that we are like Jesus Christ, we are infallible, forget it. Nobody runs anything to perfection. The important thing is for all of us to learn lessons and say that it doesn't help to do our country in, but the people of Ghana love their country and you should also love your country and put our best foot forward because that is what is going to sell this country and make us great."
Questions such as how much was spent on the celebrations according to Dr. Wereko-Brobby are irrelevant at this time.
He said the Secretariat is now focusing on projects and monuments like public toilets and kindergartens and obelisks, which he says should be completed within the Jubilee year.