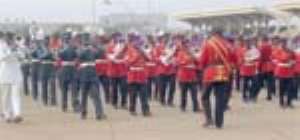 The Military on Wednesday treated the Duke of Kent, Prince Edward, to an artistic and musical display dubbed, "Beating the Retreat" at the Independence Square in Accra.
The event, a ceremonial tradition, was held to commemorate the 50th anniversary of Ghana's independence in honour of the Prince, who represented the Queen of England.
The colourful two-hour programme with the Duke as the guest of honour, started at about 16 00 hours.
The programme received great patronage from the Ghanaian public, foreigners and state officials.
Also in attendance were President John Agyekum Kufuor, the Defence Minister, Dr. Kwame Addo-Kufuor and some Members of Parliament.
The ceremonial Military tattoo commenced with a fanfare and the playing of the national anthem by the military band, which ushered in the President and the Duke of Kent, whose arrival was heralded by a motorcade.
This was followed by a cultural performance by the Ghana Dance Ensemble, while the band played along.
Various traditional dances such as Agbadza, Kundum, Adowa, Kpalongo and Damba were performed.
The performance, which received a deafening applause, was mounted by a 60-personnel contingent including a female: They mounted silent drills, and made a mark of 'GH is 50' on the ground, with their guns, followed by the black star.
There were gymnastic displays and the playing of pipes by the first battalion and the Scots Guards who came with the Duke.
Then came the aspect that caught the attention of all- the band display (beating the retreat) where the mass band comprising the Army, Air force and Navy in collaboration with the Scot Guard who with a combination of modern and traditional musical instruments, jointly performed an orchestrated piece.
They played the Volta Fantasy, Abide With Me and Osaberema.
The programme, which was interlaced with a 21 gun salute, ended with fireworks which continued even after the dignitaries had left.
Beating the retreat is a military ceremony dating back to the 16th century, and was originally used in order to recall nearby patrolling units to their castle.
It was known as "Watch Setting' and was initiated at sunset by the firing of single round.
In recent times, most Armed Forces of the Commonwealth perform some ceremonial form of the retreat and it is often used as a proving test for new band members.
The ceremonies generally involve the marching of a band, the firing of cannon and other decorative presentations, and in many cases, a castle is used as prop or a backdrop for the parade.