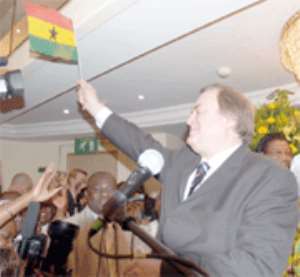 Britain's Deputy Prime Minister, Mr John Prescott says Ghana is a real model of the modern commonwealth.
He said the role and achievements of Ghana after independence from colonial rule should be a lesson for all commonwealth countries, especially those in Africa to emulate.
He said Ghana had shown the way that given the African the push and the freedom to manage its own affairs, a lot could be achieved in a short span of 50 years.
Mr Prescott was addressing a gathering of Ghanaians, members of the UK diplomatic corps and friends of Ghana in London, who had been invited to the prestigious Park Lane Hilton Hotel by Mr. Annan Cato, Ghana's High Commissioner to UK to celebrate the Golden Jubilee anniversary of Ghana's independence from colonial rule.
He observed that Ghana's role in promoting global trade and the deepening of democracy in Africa, as well as conflict mediation do not only place Ghana as a country that most other African countries look up to but also as a country that has ensured not only what is good for its citizens but citizens of other countries as well.
The deputy prime minister noted that Ghana had not relinquished its determination to be the Hope of Africa, as exhibited in the vision of her first political leader. Dr Kwame Nkrumah, after independence.
Addressing the gathering, Mr. Annan Cato noted that no value could be put on the blessings that Ghana had received; no value could be put on the role Ghana had played in the affairs of Africa.
He observed that the first president's vision for Africa was important today as it was at the time of Ghana's independence, adding that Ghana had consistently led the way from independence to today.
Mr Cato for his part, praised the forefathers who denied themselves all the good things and fought for the total liberation of the people of the country, adding that their sacrifice and toils had brought us this far.
He appealed to Ghanaians residing in the UK to contribute to the development of the country, since the total development of the nation rested on all.
He was of the view that "this is a moment for Ghanaians to stand together and to celebrate our country. The world expects us to do no less. Although Ghana has had its share of many difficult challenges during the 50 years of her existence, it is to the credit of all that we have succeeded in surmounting many of these challenges, and that at this point in time our country is stable, strong and united".
He said, it was a matter of great significance that such progress that we had made in socio-economic development, infrastructural development, in education and in Governance, had been achieved under conditions of total freedom and under the rule of law.
"It is a good time to be a Ghanaian and let us all together build our nation," he added.