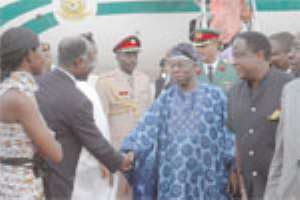 The Minister for Communication and former Dean of the Political Science Department of the University of Ghana, Professor Mike Oquaye was in his usual elements when he attempted to correct what he described as distorted historical facts.
He took students through the roadmap of political activism in the country before and after independence.
At the opening ceremony of a colloquium organized to mark the nation's Golden Jubilee celebrations last week, the minister disagreed with the perception in some political circles that the Danquah-Busia tradition kicked against and sabotaged the nation's independence struggle, saying it was for the sake of the same struggle that the leaders of the United Gold Coast Convention (UGCC) brought Kwame Nkrumah back to Ghana.
According to the professor, at a time when £26 was enough to pay for a flight to Ghana from Europe, a colossal sum of £100 was generated to help Nkrumah organize himself and return home to help wrestle power from the colonial British government.
He contended that if for nothing at all, those who initiated the return of the Osagyefo and contributed monies for that cause must also be recommended.
"Nkrumah was a man of vision, and that is a fact. But one fact of history is that when he moved the motion for independence, it was Dr. Kofi Abrefa Busia who seconded it to make it work.
I think some credit must also go to those who initiated his coming," he said.
Hon. Oquaye again stated that the Akosombo Dam, Tema Motorway and Achimota School were actually the visions of Sir Gordon Guggisberg, who single-handedly mapped them out before they were initiated in the First Republic.
He called on politicians to be less partisan and adversarial in their handling of the truth, arguing biblically that even God, in the days of the Garden of Eden, first listened to the explanations of Adam and Eve before he pronounced judgment on them.
The minister lamented that 50 long years after independence, Ghana was still spending all her revenue in importing sugar and rice, and called for a revolution in the agricultural sector.
In a Keynote address, the Dean of the Faculty of Social Sciences, Professor J.R.A Ayee noted that even though the country had been recognized as the laboratory for political experiments in Africa, the people had been consistently separated by parochial politics through electoral battles.
According to him, the country was currently faced with the challenge of how to balance the largely ceremonial role of the President, as head of state, with his political role as head of government.
Stressing that the politics in the country was not totally negative, Prof. Ayee observed that most Ghanaian leaders were more transactional than transformational, and called for the establishment of good social capital to fast track the course of democracy.
The theme of the two-day colloquium was, "Ghana @ 50: Government, Politics and Development".