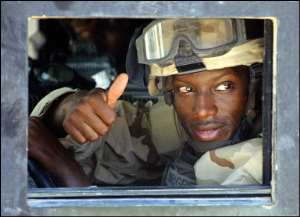 The Birim South District Chief Executive has urged civilians not to regard soldiers as enemies but as friends.
He said the days when the military was seen as an oppressive force with the aim of brutalising civilians were gone forever and has appealed for closer military-civilian relationship at all times.
He noted this at the open day of the Jungle Warfare School at Akyem Achiase in the Birim South District.

The event which attracted a large number of the civilian population including students from second cycle institutions was meant to interact with the public and to showcase their activities in the area.
Mr Busumtwi advised those students who would like to go into the army after their secondary education to study hard and assured them of his necessary support.
He also assured the officers and men of the Jungle Warfare School of the commitment of the Assembly to assist them in whatever way possible to enhance their training.
Lt. Col. Bob Nyaka, Commanding Officer (CO) of the School said with the current democratic dispensation there was no way any soldier could take the law into his own hands.
He reminded the soldiers that they were not debt collectors or land guards and that they should at all times guard against acts that would cast a slur on the reputation of the Armed Forces.
Col. Nyaka advised them to foster cordial relations with civilians, reminding them that they were civilians before joining the army.
Earlier in the day, the troops performed various kinds of drills amidst applause from the crowd. They also underwent exercises such as jumping through brazing fire and obstacle crossing to rescue a colleague who was captured by enemy forces.
The civilian population was later taken through the Jungle itself to witness operations there.
Source: GNA