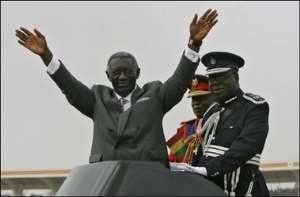 President J.A Kufuor has dismissed criticisms that he should have put on something traditional at the Golden Jubilee parade at the Independence Square on Tuesday.
He explained that he decided to wear suit instead of Kente, the anniversary cloth or any traditional apparel because of the enormous responsibilities he had to carry on the day of the parade.
Reacting to criticisms that he should have gone traditional for the parade at the Castle Osu, President Kufuor said as much as he appreciates the country's traditions and culture, it was equally important to recognize the dynamics of cultural change and identify oneself with the rapidly advancing world.
The public had expressed admiration at the smart turn out of school children and the security services at the Independence Square on Tuesday but some people expressed the opinion that the President should have worn something traditional on such an occasion.
President Kufuor further explained that the inspection parade and the need to fraternize with his colleague Heads of State and friends of Ghana from far and near as well as identify himself with advancing world were some of the considerations which determined his outfit for the occasion and expressed the opinion that the suit had ceased to be the dress of the Western world.
Rather, it had assumed the status of and international apparel to the extent that even people in countries such as Japan and China with their rich and strong culture, traditions and civilizations, dressed in suits during their important celebrations.
The President said there was no limit to which people could stretch the issue of tradition and culture in the globalised world because not everything used at the parade could be said to be part of the nation's culture and tradition.
President Kufuor said he had been overwhelmed by patronage of the parade and other activities marking the Golden Jubilee celebrations of the country's independence and advised the public against harping on the inconsequential.
On his feelings about the Golden Jubilee parade, the President said he was very delighted at the turn out at the Independence Square and the patronage of the celebrations through out the country.
He said there was no doubt at all about the significance of such patronage for the unity of the country.
Earlier in the day, a reception was organised in honour of the Nigerian President, Olusegun Obasanjo at the Castle Gardens.
The reception was attended by President Faure Gnassingbe of Togo, Tedjan Kabbah of Sierra Leone and Festus Mogae of Botswana.
Source: Daily Graphic