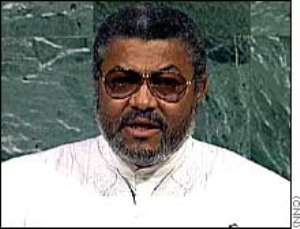 All speculations that the refusal of the former President, Jerry John Rawlings, to attend the fiftieth anniversary celebrations parade will cast a slur on the image of the country were allayed as views sampled by The Heritage newspaper indicated.Not even the foreign media from Africa noticed that somebody was missing from the dais; this was particularly so because all those who mattered in the continent's politics were there.
Among the various heads of states present yesterday were the Chairman of the African Union Commission, Alpha Konare; the Chairman of the ECOWAS Commission, Dr. Ibn Chambas; the Chairman of ECOWAS, Blaise Campaore; Olusegun Obasanjo, President to the Federal Republic of Nigeria; President Thabo Mbeki of South Africa, Sassou Nguessou of Congo, Faure Gnassingbe of Togo and a host of others.
In an interview with the Heritage newspaper, Dr. Kwabena Frimpong Manso, the Moderator of the Presbyterian Church of Ghana, said that for the first time in a long time, Ghanaians had shown their love for the nation. He praised the display of the patriotism by Ghanaians who turned out in their numbers to grace the occasion and openly displayed the national colours.
That he said, was noteworthy and a clear indication of unity of purpose and love for the country even though he acknowledged that the presence of the former president would have added some colour to the whole celebration. He said the number of dignitaries and participants, who were at the programme, clearly overshadowed his absence. He urged Ghanaians to back their patriotism, which was displayed at the parade grounds yesterday with hard work and dedication in order to place the country as the beacon of light for the continent.