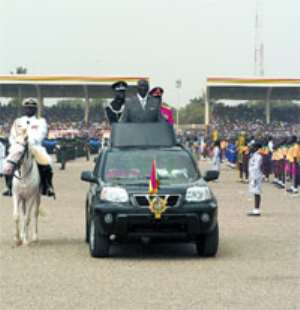 President John Agyekum Kufuor, yesterday delivered probably one of the most powerful speeches ever since he assumed the high seat of the President of the Republic of Ghana, with a challenge for the youth to gird up their loins to help develop the continent.
Addressing scores of people who trooped to the Independence Square from all walks of life to catch a glimpse of Ghana's 50th independence anniversary celebration, the President expressed confidence in the country's future.
Whilst appreciating the multiple talents and potentials that abound on the continent of Africa, he asked its teeming youth to remain committed to the course of development in order to propel the continent to the dreamland.
President Kufuor expressed grave concern and misgivings about the spate at which the continent's youth thirst for money, sometimes leading them to embark on dangerous journeys through the Sahara Desert to, as it were, seek greener pastures in Europe and elsewhere.
This, he said is gravely affecting the fortunes of the continent, since according to him, it is losing most of its illustrious sons and daughters to the already developed world.
He appealed to the youth that since nobody but only Africans themselves can develop the continent, they should stay on and channel their energies and resources towards nation building.
That notwithstanding, he has no doubts that African nations are making progress in diverse ways.
He therefore tasked the youth of Africa to channel their energies and enthusiasm to serve Africa since there is no place like home.
Through this, he holds that what would be achieved together would be far more fulfilling and satisfying than any other thing that the youth can do elsewhere.
"Indeed, this continent provides a quicker avenue to success financially than anywhere else," he stressed, emphasizing that "the future of this continent is yours; it is your heritage and you must stay and be part of building well governed economically vibrant nations which we all aspire to".
As Ghana celebrates 50years of independence and sovereignty, the President used the occasion to remind the various leaders on the continent that freedom is not a monument to be saluted and revered occasionally but rather, that which should translate into vibrant policies to affect the lives of the people.
This freedom, he said defines the humanity of Africans as a people with a destiny.
For him, 6th March 1957 would forever remain an integral reservation for Ghanaians to celebrate.
President Kufuor paid glowing tributes to all who have contributed in diverse ways towards the achievement of self government, before, during and after the attainment of independence in 1957.
In spite of the achievements of Ghana as a corporate country, he cautioned Ghanaians not to be complacent but keep on striving towards achieving excellence.
As Ghana and Ghanaians reach a milestone, he pushed for the need to aim higher than to lean on past glories, whilst advocating for all the good things that come with good life.
"Our destiny is with the most advanced in the human community and we must pursue it" he said.
He thus urged Ghanaians not to forget their tortuous and crooked past which took them through trying times.
With the tenets of rule of law, democracy and vigorous economic policies in place, the President expressed the confidence that Africa would soon take its place in international politics as it has long envisaged.
On his part, Nigerian President and Special Guest of Honour for the anniversary celebrations, Olusegun Obasanjo, prayed African leaders to ensure that the tenets of democracy and good governance prevail to avert any misfortunes.
He also congratulated Ghana as the first country to subject itself to be peer reviewed under the African Peer Review Mechanism.
This, he said is key to any meaningful permanent reversal of our undignified negative antecedents.
To him, what is required now is a proper definition and clear understanding of the notion of development, which pays special cognizance to Africa's historical antecedents and reality.
"We must not be held hostage by history, otherwise we will not make history" he said.
Whilst appreciating the fact that there is no miracle in development, President Obasanjo stressed that there is need for an oracle for development to happen.
He therefore asked the entire continent of Africa to forge ahead in a concerted effort to live up to the aspirations of Osagyefo Dr Kwame Nkrumah, Ghana's first President, who was posthumously honoured as the African of the millennium.