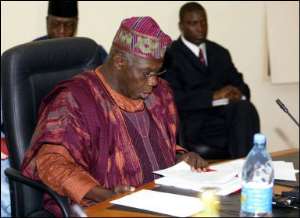 President John Agyekum Kufuor has conferred the country's highest national award, the "Companion of the Order of the Star of Ghana" on President Olusegun Obasanjo of Nigeria.

Additionally, the avenue from the Dimples Junction at Achimota is to be named "Obasanjo Avenue."

These are in recognition of his tremendous service to Ghana and Africa.

A citation read by Foreign Minister Nana Addo Dankwah Akufo-Addo described the Nigerian leader, who was the Guest of Honour at the country's Golden Jubilee parade, as a great friend of Ghana and a dedicated pan-Africanist.

It recognised his immeasurable contribution to the promotion of peace and stability in Africa, particularly his leadership role, which helped to end the ruinous Liberian conflict and paved the way for the conduct of peaceful democratic elections in the West African state.
President Obasanjo expressed his gratefulness for the honour done to him and his country.

He said he felt challenged by the commendation, appreciation and honour to continue his service to Nigeria, Africa and the world.
Meanwhile President Kufuor has expressed confidence in Africa's future.
"Africa is fast emerging and I have confidence in the future prospects of its component nations", he said when he proposed the toast at a Jubilee banquet at the State House.
In attendance were delegations from across the world who trooped to Accra to join in celebrating the important political landmark.
He said there was a new resolve of the continent to solve its problems on its own initiative and as much as possible in the African way, something, which was winning respect and support from its development partners.
Back home, President Kufuor said Ghanaians were celebrating the 50 years of nationhood in the true jubilee spirit of reconciliation and renewal in order to energize the communities for the work ahead.
"Our society and economy are poised for accelerated take off. I entreat all of you good people gathered here and our well wishers all over the world to continue to stand in prayer with us."
Source: GNA